---
Product Details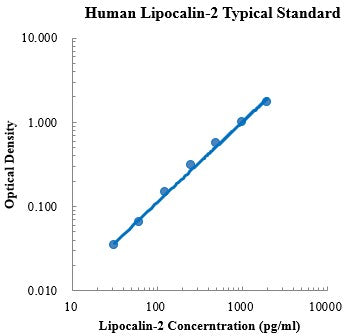 Brand
MultiSciences
CatNum
70-EK1116
Product Name
Human Lipocalin-2/NGAL ELISA Kit
Customs Name
Human Lipocalin-2/NGAL ELISA Kit
Application
ELISA
Reactivity
Human
Assay Type
Sandwich ELISA
Suitable Sample Type
serum, plasma, cell culture supernates
Format
96-well strip plate
Storage
4℃ (unopened)standard stored at -20℃, others stored at 4℃ (opened)
Shipping Condition
4℃
Sample Volume
20 μl (prediluted)
Sensitivity
2.42 pg/ml
Standard Curve Range
31.25 - 2000 pg/ml
Spike Recovery Range
-
Mean Spike Recovery
-
CV of Intra plate
2.0 % - 4.5 %
CV of Inter plate
2.9 % - 5.0 %
Release Date
2015/11/26
Components
96-well polystyrene microplate coated with a monoclonal antibody against Lipocalin-2
Human Lipocalin-2 Standard, lyophilized
Lipocalin-2 Detect Antibody
Assay Buffer (10×)
Streptavidin-HRP
Substrate (TMB)
Stop Solution
Washing Buffer (20×)
Plate Covers
Describtion
This assay employs the quantitative sandwich enzyme immunoassay technique for the quantitative detection of human Lipocalin-2. The Human Lipocalin-2 / NGAL ELISA is for research use only. Not for diagnostic or therapeutic procedures.
Lipocalin-2, also known as neutrophil gelatinase - associated lipocalin (NGAL) or oncogene 24p3, is expressed in neutrophils and in low levels in the kidney, prostate, and epithelia of the respiratory and alimentary tracts. Lipocalin-2 is involved in innate immunity by sequestrating iron that in turn limits bacterial growth. It is used as a biomarker of kidney injury. In the case of acute kidney injury (AKI), Lipocalin-2 is secreted in high levels into the blood and urine within 2 hours of injury. The Lipocalin-2 level measured in an individual is proportional to the severity of the AKI.