---
Product Details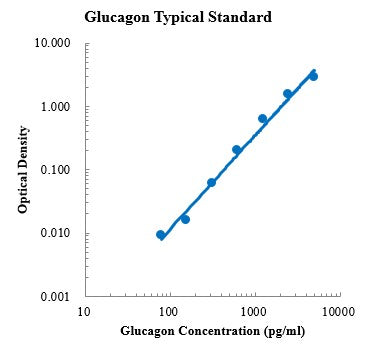 CatNum
EK9125
Product Name
Glucagon ELISA Kit
Customs Name
Glucagon ELISA Kit
SalePrice
6000
Application
ELISA
Reactivity
Multispecies
SDS
SDS - EK9125
Assay Type
Sandwich ELISA
Suitable Sample Type
serum, plasma, cell culture supernates
Format
96-well strip plate
Storage
4℃ (unopened)standard stored at -20℃, others stored at 4℃  (opened)
Shipping Condition
4℃
Sample Volume
100 μl (prediluted)
Sensitivity
8.42 pg/ml
Standard Curve Range
78.13 - 5000 pg/ml
Spike Recovery Range
80% - 127%
Mean Spike Recovery
102%
CV of Intra plate
1.5% - 3.7%
CV of Inter plate
4.4% - 6.2%
Components
96-well polystyrene microplate coated with a monoclonal  antibody against Glucagon

Glucagon Standard, lyophilized

Glucagon Detect Antibody

Standard Diluent

Streptavidin-HRP

Assay Buffer (10×)

Substrate (TMB)

Stop Solution

washing Buffer (20×)

Plate Covers

Describtion
This assay employs the quantitative sandwich enzyme  immunoassay technique for the quantitative detection of Glucagon.

The Glucagon ELISA is for research use only. Not for diagnostic  or therapeutic procedures.

Glucagon is a 29-amino acid polypeptide, produced by alpha cells of the  pancreas. The polypeptide has a molecular weight of 3485 Da that plays a  critical role in glucose metabolism and homeostasis. It works to raise the  concentration of glucose in the bloodstream. It is also used as a medication  to treat a number of health conditions. Its effect is opposite to that of  insulin, which lowers the glucose. 

The pancreas releases glucagon when the concentration of glucose in the  bloodstream falls too low. Glucagon causes the liver to convert stored  glycogen into glucose, which is released into the bloodstream. High  blood-glucose levels, on the other hand, stimulate the release of insulin.  Glucagon allows glucose to be taken up and used by insulin-dependent tissues.  Thus, glucagon and insulin are part of a feedback system that keeps blood  glucose levels stable. Abnormally elevated levels of glucagon may be caused  by pancreatic tumors, such as glucagonoma, symptoms of which include  necrolytic migratory erythema, reduced amino acids, and hyperglycemia. It may  occur alone or in the context of multiple endocrine neoplasia type 1.