---
Product Details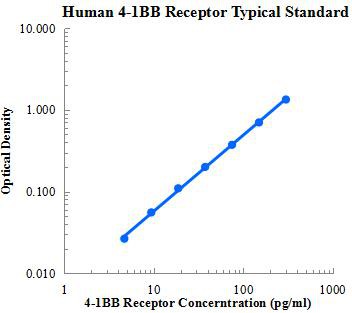 Factory Name
MultiSciences
Product Code
70-EK1263
CatNum
EK1263
Product Name
Human 4-1BB Receptor ELISA Kit
Type
ELISA Kit
Application
ELISA
Reactivity
Human
SDS
SDS - EK1263
Assay Type
Sandwich ELISA
Suitable Sample Type
serum, plasma, cell culture supernates
Format
96-well strip plate
Storage
4℃ (unopened)standard stored at -20℃, others stored at 4℃ (opened)
Shipping Condition
4℃
Sample Volume
10 μl
Sensitivity
1.58 pg/ml
Standard Curve Range
4.688 - 300 pg/ml
Spike Recovery Range
85 % - 117 %
Mean Spike Recovery
102%
CV of Intra plate
4.7 % - 5.0 %
CV of Inter plate
3.2 % - 4.2 %
Components
96-well polystyrene microplate coated with a monoclonal antibody against 4-1BB
Human 4-1BB Standard, lyophilized
4-1BB Detect Antibody
Streptavidin-HRP
Assay Buffer (10×)
Substrate (TMB)
Stop Solution
Washing Buffer (20×)
Plate Covers
Describtion
This assay employs the quantitative sandwich enzyme immunoassay technique for the quantitative detection of human 4-1BB. The Human 4-1BB ELISA is for research use only. Not for diagnostic or therapeutic procedures.4-1BB Receptor, also named TNFRSF9 is a member of the TNF superfamily of receptors. The human 4-1BB Receptor gene codes for a 255 amino acid type I transmembrane protein containing a 17 amino acid N-terminal signal sequence, a 169 amino acid extracellular domain, a 27 amino acid transmembrane domain and a 42 amino acid cytoplasmic domain. Recombinant Human soluble 4-1BB Receptor is a 167 amino acid polypeptide (17.7 kDa), which contains the cysteine-rich TNFR-like extracellular domain of 4-1BB Receptor. It is mainly expressed on the surface of a variety of T cells, but also found in B cells, monocytes, and various transformed cell lines. This receptor contributes to the clonal expansion, survival and development of T cells. It can also induce proliferation in peripheral monocytes, enhance T cell apoptosis induced by TCR/CD3 triggered activation, and regulate CD28 co-stimulation to promote Th1 cell responses. The expression of this receptor is induced by lymphocyte activation. TRAF adaptor proteins have been shown to bind to this receptor and transduce the signals leading to activation of NF-κB. It also contributes to the development of inflammation in high fat diet-induced metabolic syndrome.