---
Product Details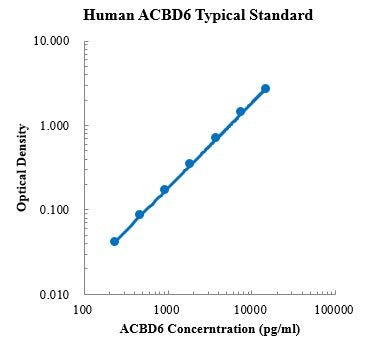 Brand
MultiSciences
CatNum
70-EK1247
Product Name
Human ACBD6 ELISA Kit
Customs Name
Human ACBD6 ELISA Kit
Application
ELISA
Reactivity
Human
Assay Type
Sandwich ELISA
Suitable Sample Type
serum, plasma, cell culture supernates
Format
96-well strip plate
Storage
4℃ (unopened) standard stored at -20℃, others stored at 4℃ (opened)
Shipping Condition
4℃
Sample Volume
20 μl
Sensitivity
9.92 pg/ml
Standard Curve Range
234.38 - 15000 pg/ml
Spike Recovery Range
84 % - 105 %
Mean Spike Recovery
0.94
CV of Intra plate
3.6 % - 4.8 %
CV of Inter plate
4.6 % - 4.8 %
Components
96-well polystyrene microplate coated with a monoclonal antibody against ACBD6
Human ACBD6 Standard, lyophilized
ACBD6 Detect Antibody
Standard Diluent
Assay Buffer (10×)
Substrate (TMB)
Stop Solution
Washing Buffer (20×)
Plate Covers
Describtion
This assay employs the quantitative sandwich enzyme immunoassay technique for the quantitative detection of human ACBD6. The Human ACBD6 ELISA is for research use only. Not for diagnostic or therapeutic procedures.
Acyl-CoA-binding domain-containing protein 6, also known as ACBD6, is a modular protein that carries an acyl-CoA binding domain at its N terminus and two ankyrin motifs at its C terminus. ACBD6 is not a ubiquitous protein, and its expression is restricted to tissues and progenitor cells with functions in blood and vessel development. ACBD6 was detected in bone marrow, spleen, placenta, cord blood, circulating CD34+ progenitors, and embryonic-like stem cells derived from placenta. In placenta, the protein was only detected in CD34+ progenitor cells present in blood and in CD31+ endothelial cells surrounding the blood vessels. Human ACBD6 may represent a cellular marker for primitive progenitor cells with functions in hematopoiesis and vascular endothelium development.