---
Product Details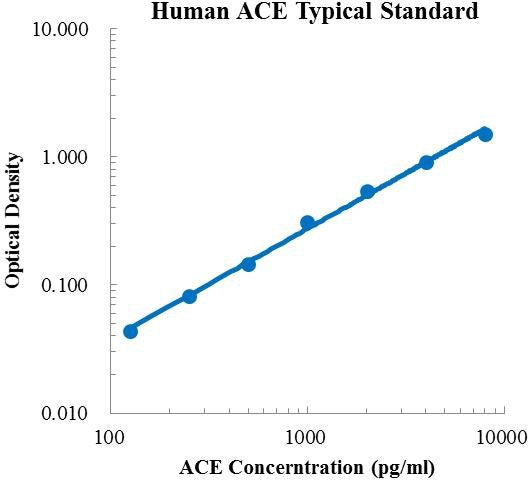 Factory Name
MultiSciences
Product Code
70-EK1317-96
CatNum
70-EK1317-96
Product Name
Human ACE ELISA Kit
Customs Name
Human ACE ELISA Kit
Product Spec
96T
SalePrice
3200
Type
ELISA Kit
Application
ELISA
Reactivity
Human
Modality
NoData
Assay Type
Sandwich ELISA
Suitable Sample Type
serum, plasma, cell culture supernates
Format
96-well strip plate
Storage
4℃ (unopened) standard stored at -20℃, others stored at 4℃ (opened)
Shipping Condition
4℃
Sensitivity
8.34 pg/ml
Standard Curve Range
125 - 8000 pg/ml
Spike Recovery Range
90 %-110 %
Mean Spike Recovery
103%
CV of Intra plate
2.6 % - 3.5 %
CV of Inter plate
2.7 % - 4.2 %
Components

96-well polystyrene microplate (12 strips of 8 wells) coated with an antibody against human ACE

Human ACE Standard, lyophilized

ACE Detect Antibody

Streptavidin-HRP                                                                                           

Assay Buffer (10×)

Substrate

Stop Solution

Washing Buffer (20×)

Adhesive Films

PRINCIPLE OF THE ASSAY
Human ACE ELISA Kit is based on the quantitative sandwich enzyme-linked immunosorbent assay technique to measure concentration of human ACE in the samples. An antibody specific for human ACE has been immobilized onto microwells. Standard or samples are pipetted into the wells, followed by the addition of biotin-linked detect antibody specific for ACE, and ACE present is bound by the immobilized antibody and detect antibody following the first incubation. After removal of any unbound substances, streptavidin-HRP is added for a second incubation. After washing, substrate solution reacts with HRP and color develops in proportion to the amount of ACE bound by the immobilized antibody. The color development is stopped by addition of acid and the optical density value is measured by microplate reader.
Describtion

Angiotensin I Converting Enzyme (ACE), also known as peptidyl-dipetidase A, is a zinc metallopeptidase important for blood pressure control and water and salt metabolism. ACE converts angiotensin I to angiotensin II by release of the terminal His-Leu dipeptide, this results in an increase of the vasoconstrictor activity of angiotensin. It is also able to inactivate bradykinin, a potent vasodilator. 

ACE and ACE-2, two cell surface proteases, are important regulators of the renin-angiotensin system (RAS), which plays a key role in maintaining blood pressure homeostasis and fluid salt balance in mammals. ACE exists in two isoforms. Somatic ACE, found in endothelial, epithelial and neuronal cells, comprises two highly similar catalytic domains called N- and C-domains whereas germinal ACE comprises a single protease domain. ACE-2 consists of a single protease domain and is an essential regulator of heart and lung function. It is also a cellular receptor for the Spike protein of SARS cornonavirus that causes severe acute respiratory syndrome.