---
Product Details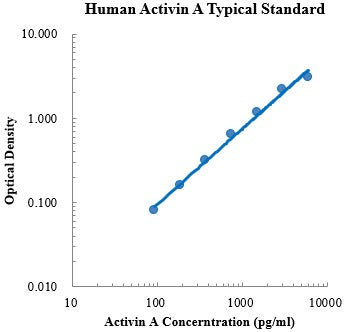 Brand
MultiSciences
CatNum
70-EK1120
Product Name
Human Activin A ELISA Kit
Customs Name
Human Activin A ELISA Kit
Application
ELISA
Reactivity
Human
Assay Type
Sandwich ELISA
Suitable Sample Type
serum, plasma, cell culture supernates
Format
96-well strip plate
Storage
4℃ (unopened)standard stored at -20℃, others stored at 4℃ (opened)
Shipping Condition
4℃
Sample Volume
50 μl
Sensitivity
2.23 pg/ml
Standard Curve Range
93.75 - 6000 pg/ml
Spike Recovery Range
82 % - 96 %
Mean Spike Recovery
0.9
CV of Intra plate
2.6 % - 8.0 %
CV of Inter plate
2.1 % - 6.5 %
Release Date
2015/11/26
Components
96-well polystyrene microplate coated with a monoclonal antibody against Activin A
Human Activin A Standard, lyophilized
Activin A Detect Antibody
Streptavidin-HRP
Assay Buffer (10×)
Substrate (TMB)
Stop Solution
Washing Buffer (20×)
Plate Covers
Describtion
This assay employs the quantitative sandwich enzyme immunoassay technique for the quantitative detection of human Activin A. The Human Activin A ELISA is for research use only. Not for diagnostic or therapeutic procedures.
Activin belongs to the TGF-β protein superfamily, is produced in the gonads, pituitary gland, placenta, and other organs. Activin is a dimer composed of two identical or very similar beta subunits. In mammals, two activin βA subunits give rise to activin A. Activin binds to the Type II receptor and initiates a cascade reaction that leads to the recruitment, phosphorylation, and activation of Type I activin receptor. This then interacts with and then phosphorylates SMAD2 and SMAD3. Activin enhances FSH biosynthesis and secretion, and participates in the regulation of the menstrual cycle. Many other functions have been found to be exerted by activin, including roles in cell proliferation, differentiation, apoptosis, metabolism, homeostasis, immune response, wound repair, and endocrine function.