---
Product Details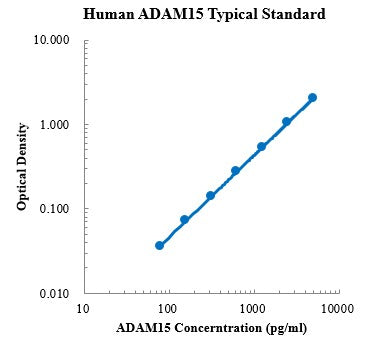 Brand
MultiSciences
CatNum
70-EK1231
Product Name
Human ADAM15 ELISA Kit
Customs Name
Human ADAM15 ELISA Kit
Application
ELISA
Reactivity
Human
Assay Type
Sandwich ELISA
Suitable Sample Type
serum, plasma, cell culture supernates
Format
96-well strip plate
Storage
4℃ (unopened) standard stored at -20℃, others stored at 4℃ (opened)
Shipping Condition
4℃
Sample Volume
20 μl
Sensitivity
1.37 pg/ml
Standard Curve Range
78.13 - 5000 pg/ml
Spike Recovery Range
82% - 116%
Mean Spike Recovery
1
CV of Intra plate
2.3% - 2.8 %
CV of Inter plate
1.5% - 2.9%
Components
96-well polystyrene microplate coated with a monoclonal antibody against ADAM15
Human ADAM15 Standard, lyophilized
ADAM15 Detect Antibody
Standard Diluent
Assay Buffer (10×)
Substrate (TMB)
Stop Solution
Washing Buffer (20×)
Plate Covers
Describtion
This assay employs the quantitative sandwich enzyme immunoassay technique for the quantitative detection of human ADAM15. The Human ADAM15 ELISA is for research use only. Not for diagnostic or therapeutic procedures.
A disintegrin and metalloprotease domain-containing protein 15 (ADAM15), is a member of the ADAM (a disintegrin and metalloproteinase) protein family. ADAM family members are type I transmembrane glycoproteins known to be involved in cell adhesion and proteolytic ectodomain processing of cytokines and adhesion molecules. This protein contains multiple functional domains including a zinc-binding metalloprotease domain, a disintegrin-like domain, as well as an EGF-like domain. Through its disintegrin-like domain, this protein specifically interacts with the integrin beta chain, beta 3. It also interacts with Src family protein-tyrosine kinases in a phosphorylation-dependent manner, suggesting that this protein may function in cell-cell adhesion as well as in cellular signaling.
ADAM15 has been associated with a number of diseases, most recently Rheumatoid Arthritis. ADAM15 also has an antiapoptotic effect in osteoarthritic chondrocytes. It has also been shown to have a role in Prostate Cancer through increased expression in neoplastic and metastatic tissues compared to normal prostate tissues and also through its modulation of epithelial cell- tumour cell interactions. ADAM15 may represent a pivotal regulatory component of tumor progression or an important target for therapeutic intervention.