---
Product Details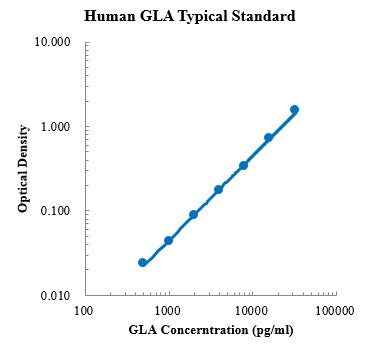 Brand
MultiSciences
CatNum
70-EK1260
Product Name
Human alpha-Galactosidase A/GLA ELISA Kit
Customs Name
Human alpha-Galactosidase A/GLA ELISA Kit
Application
ELISA
Reactivity
Human
Assay Type
Sandwich ELISA
Suitable Sample Type
serum, plasma, cell culture supernates
Format
96-well strip plate
Storage
4℃ (unopened) standard stored at -20℃, others stored at 4℃ (opened)
Shipping Condition
4℃
Sample Volume
20 μl
Sensitivity
53.55 pg/ml
Standard Curve Range
500.00 - 32000 pg/ml
Spike Recovery Range
73 % - 127 %
Mean Spike Recovery
0.93
CV of Intra plate
4.9% - 8.8 %
CV of Inter plate
3.6% - 8.0%
Components
96-well polystyrene microplate coated with a monoclonal antibody against GLA
Human GLA Standard, lyophilized
GLA Detect Antibody
Standard Diluent
Assay Buffer (10×)
Substrate (TMB)
Stop Solution
Washing Buffer (20×)
Plate Covers
Describtion
This assay employs the quantitative sandwich enzyme immunoassay technique for the quantitative detection of human GLA. The Human alpha-Galactosidase A/GLA ELISA is for research use only. Not for diagnostic or therapeutic procedures.
Alpha-galactosidase A, also known as GLA, is a member of the glycosyl hydrolase 27 family. GLA is used as a long-term enzyme replacement therapy in patients with a confirmed diagnosis of Fabry disease (FD). Defects in GLA are the cause of FD which is a rare X-linked sphingolipidosis disease where glycolipid accumulates in many tissues. The disease consists of an inborn error of glycosphingolipid catabolism. FD patients show systemic accumulation of globotriaosylceramide (Gb3) and related glycosphingolipids in the plasma and cellular lysosomes throughout the body. Clinical recognition in males results from characteristic skin lesions (angiokeratomas) over the lower trunk. In addition, patients may show ocular deposits, febrile episodes, and burning pain in the extremities. Death results from renal failure, cardiac or cerebral complications of hypertension or other vascular disease. Deficiency of GLA leads to the accumulation of glycosphingolipids in the vasculature leading to multiorgan pathology. In addition to well-described microvascular disease, deficiency of GLA is also characterized by premature macrovascular events such as stroke and possibly myocardial infarction.