---
Product Details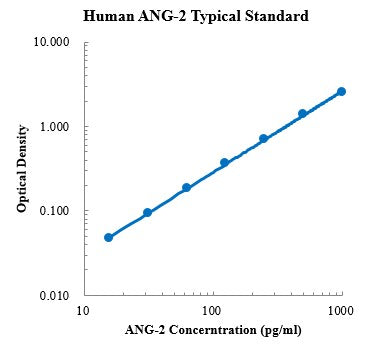 Brand
MultiSciences
CatNum
70-EK1215
Product Name
Human Angiopoietin-2/ANG-2 ELISA Kit
Customs Name
Human Angiopoietin-2/ANG-2 ELISA Kit
Application
ELISA
Reactivity
Human
Assay Type
Sandwich ELISA
Suitable Sample Type
serum, plasma, cell culture supernates
Format
96-well strip plate
Storage
4℃ (unopened) standard stored at -20℃, others stored at 4℃ (opened)
Shipping Condition
4℃
Sample Volume
20 μl
Sensitivity
2.61 pg/ml
Standard Curve Range
15.63 - 1000 pg/ml
Spike Recovery Range
79 % - 108 %
Mean Spike Recovery
0.92
CV of Intra plate
3.8 % - 4.1 %
CV of Inter plate
2.0 % - 3.0 %
Components
96-well polystyrene microplate coated with a monoclonal antibody against ANG-2
Human ANG-2 Standard, lyophilized
ANG-2 Detect Antibody
Standard Diluent
Streptavidin-HRP
Assay Buffer (10×)
Substrate (TMB)
Stop Solution
Washing Buffer (20×)
Plate Covers
Describtion
This assay employs the quantitative sandwich enzyme immunoassay technique for the quantitative detection of human ANG-2. The Human Angiopoietin-2 / ANG-2 ELISA is for research use only. Not for diagnostic or therapeutic procedures.


Angiopoietin-2 (ANG-2) is an approximately 70 kDa secreted glycoprotein that plays a complex role in angiogenesis, inflammation, and vascular development. It is expressed in vascular endothelial and smooth muscle cells in highly angiogenic tissues, lung epithelial cells, differentiating myotubes, and neural progenitor cells. ANG-2 promotes endothelial cell survival, proliferation, and migration, and also promotes sprouting angiogenesis. It induces the loss of pericytes from vessel walls and an increase of vascular permeability. ANG-2 is required for the development of lymphatic vessels as well as the postnatal remodeling of both lymphatic and vascular vessels.

ANG-2 is elevated in patients with angiosarcoma. Research on ANG-2 has shown that it is involved in the onset of septic shock. Serum levels of ANG-2 expression are associated with the growth of multiple myeloma, angiogenesis, and overall survival in oral squamous cell carcinoma. Circulating ANG-2 is a marker for early cardiovascular disease in children on chronic dialysis. Kaposi's sarcoma-associated herpesvirus induces rapid release of ANG-2 from endothelial cells.