---
Product Details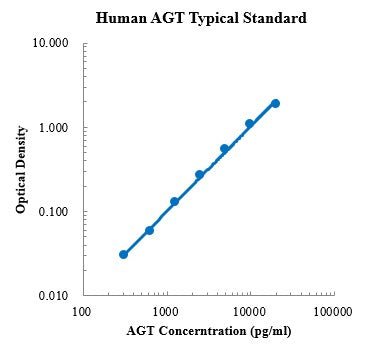 Brand

MultiSciences

Cat Num

70-EK1202

Product Name

Human Angiotensinogen/AGT/SerpinA8 ELISA Kit

Customs Name

Human Angiotensinogen/AGT/SerpinA8 ELISA Kit

Application

ELISA

Reactivity

Human

Assay Type

Sandwich ELISA

Suitable Sample Type

serum, plasma, cell culture supernates

Format

96-well strip plate

Storage

4℃ (unopened)standard stored at -20℃, others stored at 4℃ (opened)

Shipping Condition

4℃

Sample Volume

100 μl (prediluted)

Sensitivity

19.93

Standard Curve Range

312.50 - 20000 pg/ml

Spike Recovery Range

-

Mean Spike Recovery

-

CV of Intra plate

4.0 % - 4.9 %

CV of Inter plate

3.7 % - 4.5 %

Components

96-well polystyrene microplate coated with a monoclonal antibody against AGT
Human AGT Standard, lyophilized
AGT Detect Antibody
Assay Buffer (10×)
Substrate (TMB)
Stop Solution
Washing Buffer (20×)
Plate Covers

Describtion

This assay employs the quantitative sandwich enzyme immunoassay technique for the quantitative detection of human AGT. The Human Angiotensinogen/AGT/SerpinA8 ELISA is for research use only. Not for diagnostic or therapeutic procedures.
Angiotensinogen (AGT), also known as SerpinA8, is a member of the serpin family. It is an α-2-globulin produced constitutively and released into the circulation mainly by the liver. AGT is an essential component of the renin-angiotensin system (RAS) and a potent regulator of blood pressure. AGT is cleaved into three chains: Angiotensin-1, Angiotensin-2, and Angiotensin-3.
Defects in AGT are associated with susceptibility to essential hypertension and renal tubular dysgenesis (RTD). Several serpins (antithrombin, maspin, pigment epithelial-derived factor, and kallistatin) have been recently shown to exert an antiangiogenic activity, suggesting a common mechanism of endothelial cell proliferation and migration. Angiotensinogen/AGT and its renin-cleaved product, are also angiogenesis inhibitors, both in vitro and in vivo at concentrations within the range of those observed in plasma.