---
Product Details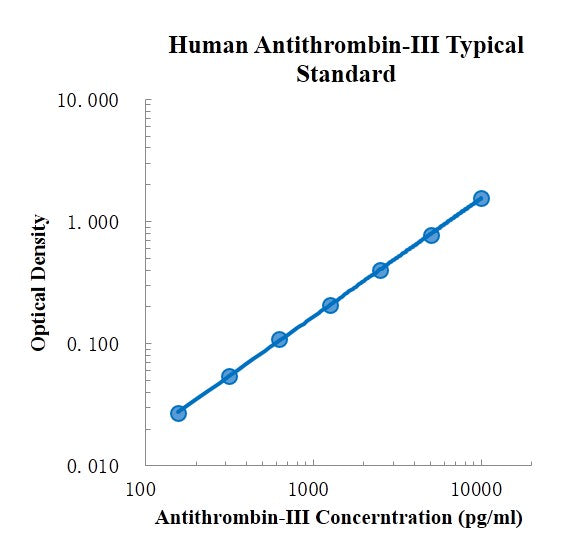 Factory Name

MultiSciences

Product Code

70-EK1275

Cat Num

EK1275

Product Name
Human Antithrombin-III/Serpin C1 ELISA Kit
Customs Name

Human Antithrombin-III/Serpin C1 ELISA Kit

Product Spec
96 T
Application

ELISA

Reactivity

Human

SDS

SDS-EK1275

Assay Type
Sandwich ELISA
Suitable Sample Type

serum, plasma, cell culture supernates

Format

96-well strip plate

Storage

4℃ (unopened)standard stored at -20℃, others stored at 4℃ (opened)

Shipping Condition

4℃

Sample Volume

20 μl

Sensitivity

0.63 pg/ml

Standard Curve Range

7.81 - 500 pg/ml

Spike Recovery Range

83 % - 104 %

Mean Spike Recovery

0.96

CV of Intra plate

3.7 % - 3.8 %

CV of Inter plate

3.1 % - 3.9 %

Release Date

2018/6/15

Components

96-well polystyrene microplate coated with a monoclonal antibody against Antithrombin-III

Human Antithrombin-III Standard, lyophilized

Antithrombin-III Detect Antibody

Streptavidin-HRP

Assay Buffer (10×)

Substrate (TMB)

Stop Solution

Washing Buffer (20×)

Plate Covers

Describtion

This assay employs the quantitative sandwich enzyme immunoassay technique for the quantitative detection of human Antithrombin-III/Serpin C1. The Human Antithrombin-III/SerpinC1 ELISA is for research use only. Not for diagnostic or therapeutic procedures.

Antithrombin-III, encoded by the SerpinC1 gene, is a member of the serpin superfamily of serine protease inhibitors, and has been found to be a marker for disseminated intravascular coagulation (DIC). This protein inhibits thrombin as well as other activated serine proteases of the coagulation system, and it regulates the blood coagulation cascade. 

Antithrombin-III is the most important coagulation factor inhibitor, and even minor changes in Antithrombin-III can significantly alter the risk of thromboembolism. Antithrombin-III can also suppress inflammation via a coagulation-dependent or -independent effect. Moreover, apart from Antithrombin-III deficiency, Antithrombin-III and its gene SerpinC1 may also be related to many diseases (e.g. hypertension, kidney diseases).