---
Product Details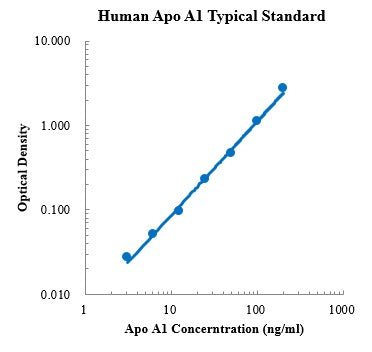 Brand

MultiSciences

Cat Num

70-EK1204

Product Name

Human Apolipoprotein A1/Apo A1 ELISA Kit

Customs Name

Human Apolipoprotein A1/Apo A1 ELISA Kit

Application

ELISA

Reactivity

Human

Assay Type

Sandwich ELISA

Suitable Sample Type

serum, plasma, cell culture supernates

Format

96-well strip plate

Storage

4℃ (unopened)standard stored at -20℃, others stored at 4℃ (opened)

Shipping Condition

4℃

Sample Volume

10 μl (prediluted)

Sensitivity

0.73 ng/ml

Standard Curve Range

3.13 - 200 ng/ml

Spike Recovery Range

-

Mean Spike Recovery

-

CV of Intra plate

3.4 % - 6.9 %

CV of Inter plate

2.0 % - 6.6 %

Components

96-well polystyrene microplate coated with a monoclonal antibody against Apo A1
Human Apo A1 Standard, lyophilized
Apo A1 Detect Antibody
Streptavidin-HRP
Assay Buffer (10×)
Substrate (TMB)
Stop Solution
Washing Buffer (20×)
Plate Covers

Describtion

This assay employs the quantitative sandwich enzyme immunoassay technique for the quantitative detection of human Apo A1. The Human Apolipoprotein A1/Apo A1 ELISA is for research use only. Not for diagnostic or therapeutic procedures.

Apolipoprotein A1 (Apo A1) is the major protein component of high density lipoprotein (HDL) in plasma. Chylomicrons secreted from the intestinal enterocyte also contain Apo A1, but it is quickly transferred to HDL in the bloodstream. The protein has a specific role in lipid metabolism. It promotes fat efflux, including cholesterol, from tissues to the liver for excretion. It is a cofactor for lecithin cholesterolacyltransferase (LCAT) which is responsible for the formation of most plasma cholesteryl esters. Apo A1 was also isolated as a prostacyclin (PGI2) stabilizing factor, and thus may have an anticlotting effect.

Apo A1 is often used as a biomarker for prediction of cardiovascular diseases and the ratio Apo B-100/Apo A1 has been reported as a stronger predictor for the risk of myocardial infarction than any other lipid measurement. Defects in the gene encoding it are associated with HDL deficiencies, including Tangier disease, and with systemic non-neuropathic amyloidosis.