---
Product Details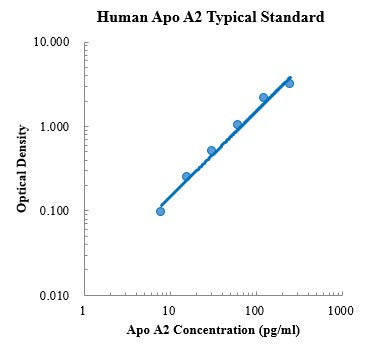 Factory Name

MultiSciences

CatNum

EK1258

Product Name

Human Apolipoprotein AII/Apo A2 ELISA Kit

Customs Name

Human Apolipoprotein AII/Apo A2 ELISA Kit

Application

ELISA

Reactivity

Human

SDS

SDS - EK1258

Assay Type

Sandwich ELISA

Suitable Sample Type

serum, plasma, cell culture supernates

Format

96-well strip plate

Storage

4℃ (unopened)standard stored at -20℃, others stored at 4℃ (opened)

Shipping Condition

4℃

Sample Volume

10 μl (prediluted)

Sensitivity

0.53 pg/ml

Standard Curve Range

7.81 - 500 pg/ml

Spike Recovery Range

91% - 123%

Mean Spike Recovery

106%

CV of Intra plate

3.8% - 4.5%

CV of Inter plate

4.3% - 9.4%

Components

96-well polystyrene microplate coated with a monoclonal antibody against Apo A2
Human Apo A2 Standard, lyophilized
Apo A2 Detect Antibody
Streptavidin-HRP
Assay Buffer (10×)

Substrate (TMB)
Stop Solution
Washing Buffer (20×)
Plate Covers

Describtion

This assay employs the quantitative sandwich enzyme immunoassay technique for the quantitative detection of human Apo A2. The Human Apolipoprotein AII/Apo A2 ELISA is for research use only. Not for diagnostic or therapeutic procedures.
Apolipoprotein AII (Apo A2), the second most abundant protein after Apo A1 of human plasma high-density lipoproteins (HDL), is the most lipophilic of the exchangeable apolipoproteins. Apo A2 is synthesized by the liver and the small intestine and found in plasma as a monomer, dimer. TheApo A2gene consists of 4 exons and 3 introns. The four exons encode the 5' untranslated region, pre peptide, a short N terminal domain and a C terminal domain composed of a variable number of lipid binding amphipathic helices.
Apo A2 may stabilize HDL structure by its association with lipids, and affect the HDL metabolism. Role of Apo A2 in lipid metabolism and atherosclerosis show important clinical significance. Apo A2 levels have been associated with increased susceptibility to atherosclerosis, increased free fatty acid levels, increased body fat, and increased insulin resistance.