---
Product Details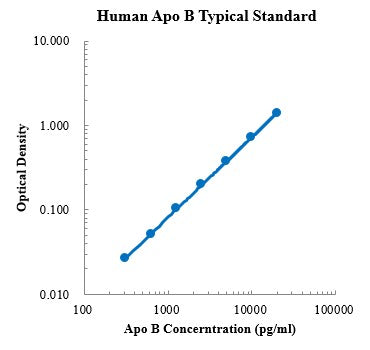 Brand

MultiSciences

Cat Num

70-EK1203

Product Name

Human Apolipoprotein B/Apo B ELISA Kit

Customs Name

Human Apolipoprotein B/Apo B ELISA Kit

Application

ELISA

Reactivity

Human

Assay Type

Sandwich ELISA

Suitable Sample Type

serum, plasma, cell culture supernates

Format

96-well strip plate

Storage

4℃ (unopened)standard stored at -20℃, others stored at 4℃ (opened)

Shipping Condition

4℃

Sample Volume

100 μl (prediluted)

Sensitivity

74.26 pg/ml

Standard Curve Range

312.50 - 20000 pg/ml

Spike Recovery Range

-

Mean Spike Recovery

-

CV of Intra plate

5.0 % - 6.0 %

CV of Inter plate

2.3 % - 6.1 %

Components

96-well polystyrene microplate coated with a monoclonal antibody against Apo B
Human Apo B Standard, lyophilized
Apo B Detect Antibody
Streptavidin-HRP
Assay Buffer (10×)
Substrate (TMB)
Stop Solution
Washing Buffer (20×)
Plate Covers

Describtion

This assay employs the quantitative sandwich enzyme immunoassay technique for the quantitative detection of human Apo B. The Human Apolipoprotein B/Apo B ELISA is for research use only. Not for diagnostic or therapeutic procedures.





Apolipoprotein B (Apo B) is the primary apolipoprotein of chylomicrons, very low-density lipoprotein (VLDL), Intermediate-density lipoprotein (IDL), and Low-density lipoprotein (LDL) particles, which is responsible for carrying fat molecules (lipids). Apo B is divided into two subgroups: Apo B48 and Apo B100, according to the difference in amino acid composition.
High levels of Apo B, especially associated with the higher LDL particle concentrations, are the primary driver of plaques that cause vascular disease (atherosclerosis). Overproduction of apolipoprotein B can result in lipid-induced endoplasmic reticulum stress and insulin resistance in the liver. Study showed that the Apo B100 / Apo A1 ratio is more effective at predicting heart attack risk, in patients who had had an acute myocardial infarction, than either the Apo B100 or Apo A1 measure alone.