---
Product Details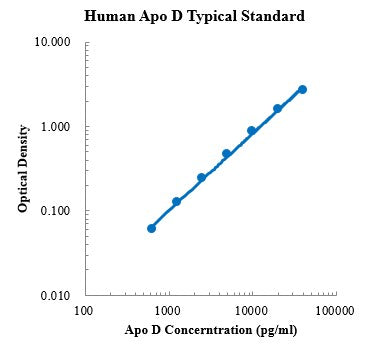 Brand
MultiSciences
CatNum
70-EK1223
Product Name
Human Apolipoprotein D/Apo D ELISA Kit
Customs Name
Human Apolipoprotein D/Apo D ELISA Kit
Application
ELISA
Reactivity
Human
Assay Type
Sandwich ELISA
Suitable Sample Type
serum, plasma, cell culture supernates
Format
96-well strip plate
Storage
4℃ (unopened) standard stored at -20℃, others stored at 4℃ (opened)
Shipping Condition
4℃
Sample Volume
10 μl (prediluted)
Sensitivity
25.67 pg/ml
Standard Curve Range
625 - 40000 pg/ml
Spike Recovery Range
-
Mean Spike Recovery
-
CV of Intra plate
2.0 % - 8.1 %
CV of Inter plate
1.9 % - 2.8 %
Components
96-well polystyrene microplate coated with a monoclonal antibody against Apo D
Human Apo D Standard, lyophilized
Apo D Detect Antibody
Streptavidin-HRP
Assay Buffer (10×)
Substrate (TMB)
Stop Solution
Washing Buffer (20×)
Plate Covers
Describtion
This assay employs the quantitative sandwich enzyme immunoassay technique for the quantitative detection of human Apo D. The Human Apolipoprotein D/Apo D ELISA is for research use only. Not for diagnostic or therapeutic procedures.
Apolipoprotein D (Apo D) is a glycoprotein of estimated molecular weight 33 kDa that in humans is encoded by the APOD gene. Unlike other lipoproteins, which are mainly produced in the liver, Apo D is mainly produced in the brain and testes. It is a component of high-density lipoprotein (HDL) that has no marked similarity to other apolipoprotein sequences. Apo D is closely associated with the enzyme lecithin:cholesterol acyltransferase - an enzyme involved in lipoprotein metabolism. Apo D has also been shown to be an important link in the transient interaction between HDL and LDL particles and between HDL particles and cells.
APO D is a biomarker of androgen insensitivity syndrome (AIS). It is associated with neurological disorders and nerve injury, especially related to myelin sheath. APO D was shown to be elevated in a rat model of stroke. APO D is elevated in patients with schizophrenia, bipolar disorder, and Alzheimer's disease.