---
Product Details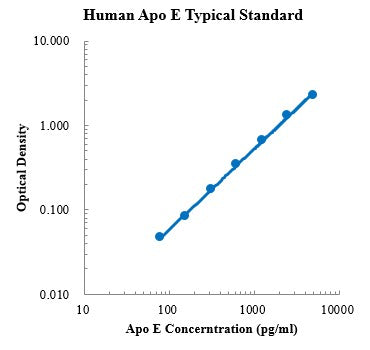 Brand
MultiSciences
CatNum
70-EK1218
Product Name
Human Apolipoprotein E/Apo E ELISA Kit
Customs Name
Human Apolipoprotein E/Apo E ELISA Kit
Application
ELISA
Reactivity
Human
Assay Type
Sandwich ELISA
Suitable Sample Type
serum, plasma, cell culture supernates
Format
96-well strip plate
Storage
4℃ (unopened) standard stored at -20℃, others stored at 4℃ (opened)
Shipping Condition
4℃
Sample Volume
10 μl (prediluted)
Sensitivity
1.71 pg/ml
Standard Curve Range
78.13 - 5000 pg/ml
Spike Recovery Range
-
Mean Spike Recovery
-
CV of Intra plate
3.5 % - 5.0 %
CV of Inter plate
3.8 % - 5.0 %
Components
96-well polystyrene microplate coated with a monoclonal antibody against Apo E
Human Apo E Standard, lyophilized
Apo E Detect Antibody
Streptavidin-HRP
Assay Buffer (10×)
Substrate (TMB)
Stop Solution
Washing Buffer (20×)
Plate Covers
Describtion
This assay employs the quantitative sandwich enzyme immunoassay technique for the quantitative detection of human Apo E. The Human Apolipoprotein E / Apo E ELISA is for research use only. Not for diagnostic or therapeutic procedures.
Apolipoprotein E (Apo E) is a class of apolipoprotein found in the chylomicron and Intermediate-density lipoprotein that is essential for the normal catabolism of triglyceride-rich lipoprotein constituents. In peripheral tissues, Apo E is primarily produced by the liver and macrophages, and mediates cholesterol metabolism in an isoform-dependent manner. In the central nervous system, Apo E is mainly produced by astrocytes, and transports cholesterol to neurons via Apo E receptors.
Apo E transports lipoproteins, fat-soluble vitamins, and cholesterol into the lymph system and then into the blood. In the field of immune regulation, a growing number of studies point to Apo E's interaction with many immunological processes, including suppressing T cell proliferation, macrophage functioning regulation, lipid antigen presentation facilitation to natural killer T cell as well as modulation of inflammation and oxidation. The secretion of Apo E by monocytes is down regulated by inflammatory cytokines and upregulated by TGF-β. This protein is involved in Alzheimer's disease and cardiovascular disease.