---
Product Details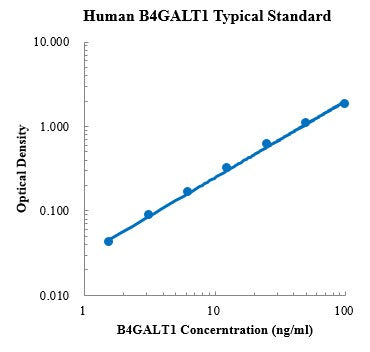 Brand

MultiSciences

Cat Num

70-EK1188

Product Name

Human B4GALT1/GGTB2 ELISA Kit

Customs Name

Human B4GALT1/GGTB2 ELISA Kit

Application

ELISA

Reactivity

Human

Assay Type

Sandwich ELISA

Suitable Sample Type

serum, plasma, cell culture supernates

Format

96-well strip plate

Storage

4℃ (unopened)standard stored at -20℃, others stored at 4℃ (opened)

Shipping Condition

4℃

Sample Volume

50 μl

Sensitivity

0.06 ng/ml

Standard Curve Range

1.56 - 100 ng/ml

Spike Recovery Range

105 - 120 %

Mean Spike Recovery

1.15

CV of Intra plate

2.9 % - 4.4 %

CV of Inter plate

3.0 % - 3.2 %

Components

96-well polystyrene microplate coated with a monoclonal antibody against B4GALT1
Human B4GALT1 Standard, lyophilized
B4GALT1 Detect Antibody
Standard Diluent
Assay Buffer (10×)
Substrate (TMB)
Stop Solution
Washing Buffer (20×)
Plate Covers

Describtion

This assay employs the quantitative sandwich enzyme immunoassay technique for the quantitative detection of human B4GALT1. The Human B4GALT1/GGTB2 ELISA is for research use only. Not for diagnostic or therapeutic procedures.
Beta-1, 4-galactosyltransferase 1 (B4GALT1), one of seven beta-1, 4-galactosyltransferases, is an enzyme commonly found in the trans-Golgi complex that adds galactose to oligosaccharides. By sequence similarity, the B4GALTs form four groups: B4GALT1 and B4GALT2, B4GALT3 and B4GALT4, B4GALT5 and B4GALT6, and B4GALT7. B4GALT1 is unique among the seven enzymes because it can be expressed either as membrane associated form or secreted form. The secreted form is restricted to lactating mammary tissues where the enzyme forms a heterodimer with alpha - lactalbumin to catalyze the synthesis of lactose. The membrane form can reside either in the Golgi apparatus, where it adds galactose to N-acetylglucosamine residues, or on cell surface, where it functions as a recognition molecule during a variety of cell to cell and cell to matrix interactions, by binding to specific oligosaccharide ligands on opposing cells or in the extracellular matrix. The two enzymatic forms result from alternate transcription initiation sites and post-translational processing. Defects in B4GALT1 are the cause of congenital disorder of glycosylation type 2D.