---
Product Details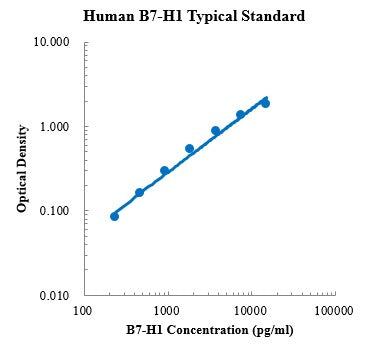 Suitable Sample Type

serum, plasma, cell culture supernates

Format

96-well strip plate

Storage

4℃ (unopened)standard stored at -20℃, others stored at 4℃ (opened)

Shipping Condition

4℃

Sample Volume

50 μl

Sensitivity

5.58 pg/ml

Standard Curve Range

234.38 - 15000 pg/ml

Spike Recovery Range

81% - 102%

Mean Spike Recovery

0.85

CV of Intra plate

3.4% - 5.8%

CV of Inter plate

1.3% - 4.9%

Components

96-well polystyrene microplate coated with a monoclonal antibody against B7-H1
Human B7-H1 Standard, lyophilized
B7-H1 Detect Antibody
Standard Diluent
Streptavidin-HRP
Assay Buffer (10×)
Substrate (TMB)
Stop Solution
Washing Buffer (20×)
Plate Covers

Describtion

This assay employs the quantitative sandwich enzyme immunoassay technique for the quantitative detection of human B7-H1. The Human B7-H1/PD-L1/CD274 ELISA is for research use only. Not for diagnostic or therapeutic procedures.
B7 homolog 1 (B7-H1), also known as programmed death-ligand 1 (PD-L1) and cluster of differentiation 274 (CD274), is a 40kDa type I transmembrane protein that has been speculated to play a major role in suppressing the immune system during particular events such as pregnancy, tissue allografts, autoimmune disease and other disease states such as hepatitis. The binding of B7-H1 to its receptor transmits an inhibitory signal which reduces the proliferation of these CD8+ T cells at the lymph nodes.
Upregulation of B7-H1 may allow cancers to evade the host immune system. An analysis of 196 tumor specimens from patients with renal cell carcinoma found that high tumor expression of B7-H1 was associated with increased tumor aggressiveness and a 4.5-fold increased risk of death. In addition, B7-H1 acts as a positive costimulatory molecule in intracellular infection. In humans, B7-H1 was found to have altered expression in pediatric patients with Systemic lupus erythematosus (SLE).