---
Product Details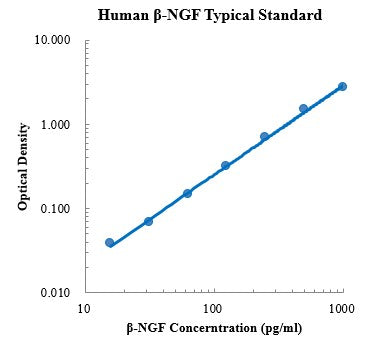 Brand

MultiSciences

CatNum

70-EK1141

Product Name

Human β-NGF ELISA Kit

Customs Name

Human β-NGF ELISA Kit

Application

ELISA

Reactivity

Human

Assay Type

Sandwich ELISA

Suitable Sample Type

serum, plasma, cell culture supernates

Format

96-well strip plate

Storage

4℃ (unopened) standard stored at -20℃, others stored at 4℃ (opened)

Shipping Condition

4℃

Sample Volume

50 μl

Sensitivity

0.78 pg/ml

Standard Curve Range

15.63 - 1000 pg/ml

Spike Recovery Range

85 % - 115 %

Mean Spike Recovery

0.98

CV of Intra plate

3.0 % - 7.0 %

CV of Inter plate

3.0 % - 7.9 %

Components

96-well polystyrene microplate coated with a monoclonal antibody against β-NGF

Human β-NGF Standard, lyophilized

β-NGF Detect Antibody

Standard Diluent

Streptavidin-HRP

Assay Buffer (10×)

Substrate (TMB)

Stop Solution

Washing Buffer (20×)

Plate Covers

Describtion

This assay employs the quantitative sandwich enzyme immunoassay technique for the quantitative detection of human β-NGF. The Human β-NGF ELISA is for research use only. Not for diagnostic or therapeutic procedures.

Nerve growth factor (NGF) is initially in a complex of 3 proteins - α-NGF, β-NGF, and γ-NGF when expressed. This form of NGF is also referred to as proNGF (NGF precursor). The γ subunit of this complex acts as a serine protease, and cleaves the N-terminal of the β subunit, thereby activating the protein into functional NGF. The term "Nerve Growth Factor" usually refers to the β subunit of the protein. NGF is a neuropeptide primarily involved in the regulation of growth, maintenance, proliferation, and survival of certain target neurons.

NGF appears to promote myelin repair. Hence NGF may be useful for the treatment of multiple sclerosis. NGF could also be involved in various psychiatric disorders, such as dementia, depression, schizophrenia, autism, Rett syndrome, anorexia nervosa, and bulimia nervosa. Dysregulation of NGF signaling has also been linked to Alzheimer's disease.