---
Product Details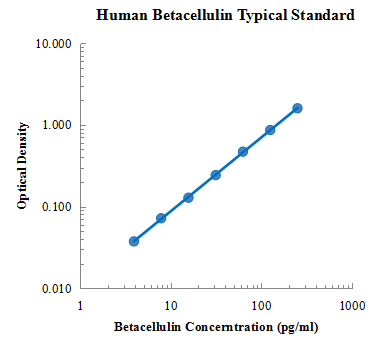 Factory Name
MultiSciences
Product Code
70-EK1266-96
CatNum
EK1266-96
Product Name
Human Betacellulin ELISA Kit
Customs Name
Human Betacellulin ELISA Kit
Product Spec
96T
SalePrice
2500
Type
ELISA Kit
Application
ELISA
Reactivity
Human
Modality
NoData
Assay Type
Sandwich ELISA
Suitable Sample Type
serum, plasma, cell culture supernates
Format
96-well strip plate
Storage
4℃ (unopened) standard stored at -20℃, others stored at 4℃ (opened)
Shipping Condition
4℃
Sensitivity
0.45 pg/ml
Standard Curve Range
3.91-250 pg/ml
Spike Recovery Range
89%-115%
Mean Spike Recovery
103%
CV of Intra plate
4.1 % - 4.9 %
CV of Inter plate
0.6% - 3.4%
Components

96-well polystyrene microplate (12 strips of 8 wells) coated with a monoclonal antibody against human Betacellulin

Human Betacellulin Standard, lyophilized

Betacellulin Detect Antibody

Standard Diluent

Streptavidin-HRP

Assay Buffer (10×)

Substrate (TMB)

Stop Solution

Washing Buffer (20×)

Adhesive Films 

Describtion

This assay employs the quantitative sandwich enzyme immunoassay technique for the quantitative detection of human β-NGF. The Human  β-NGF ELISA is for research use only. Not for diagnostic or therapeutic procedures.                  Betacellulin, also known as BTC is a protein that in humans is encoded by the BTC gene. This gene is mapped to 4q13.3. The protein encoded by this gene is a member of the EGF family of growth factors. It is synthesized primarily as a transmembrane precursor, which is then processed to mature molecule by proteolytic events. This protein is a ligand for the EGF receptor. It is the growth factor that binds to EGFR, ERBB4 and other EGF receptor family members. This protein is a potent mitogen for retinal pigment epithelial cells and vascular smooth muscle cells.

Some data show that BTC exerts potent angiogenic activity through activation of EGF receptors, mitogen-activated protein kinase, and PtdIns 3'-kinase/Akt in endothelial cells.