---
Product Details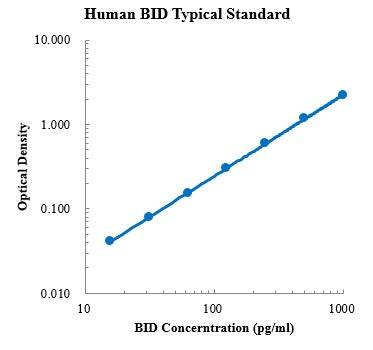 Brand
MultiSciences
CatNum
70-EK1227
Product Name
Human BID ELISA Kit
Customs Name
Human BID ELISA Kit
Application
ELISA
Reactivity
Human
Assay Type
Sandwich ELISA
Suitable Sample Type
serum, plasma, cell culture supernates
Format
96-well strip plate
Storage
4℃ (unopened) standard stored at -20℃, others stored at 4℃ (opened)
Shipping Condition
4℃
Sample Volume
20 μl (prediluted)
Sensitivity
0.51 pg/ml
Standard Curve Range
15.63 - 1000 pg/ml
Spike Recovery Range
-
Mean Spike Recovery
-
CV of Intra plate
2.3 % - 3.0 %
CV of Inter plate
1.7 % - 2.2 %
Components
96-well polystyrene microplate coated with a monoclonal antibody against BID
Human BID Standard, lyophilized
BID Detect Antibody
Assay Buffer (10×)
Substrate (TMB)
Stop Solution
Washing Buffer (20×)
Plate Covers
Describtion
This assay employs the quantitative sandwich enzyme immunoassay technique for the quantitative detection of human BID. The Human BID ELISA is for research use only. Not for diagnostic or therapeutic procedures.
The BH3 interacting domain death agonist (BID), containing only the BH3 domain, is a pro-apoptotic member of the Bcl-2 protein family. BID is important to cell death mediated by Bcl-2 family proteases and thus is the sentinel to protease-mediated death signals. In response to apoptotic signaling, BID interacts with another Bcl-2 family protein, Bax, leading to the insertion of Bax into organelle membranes, primarily the outer mitochondrial membrane. The expression of BID is upregulated by the tumor suppressor p53, and BID has been shown to be involved in p53-mediated apoptosis. Recent studies further indicate that BID may be more than just a killer molecule, it could be also involved in the maintenance of genomic stability by engaging at mitosis checkpoint. BID is a key regulator of the intrinsic death pathway that amplifies caspase-dependent and caspase-independent execution of neuronal apoptosis. Therefore pharmacological inhibition of BID provides a promising therapeutic strategy in neurological diseases where programmed cell death is prominent.