---
Product Details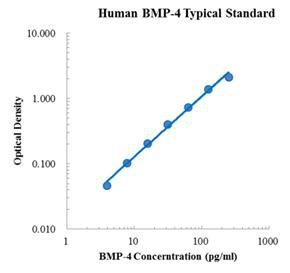 Factory Name
MultiSciences
Product Code
70-EK1323-96
CatNum
EK1323-96
Product Name
Human BMP-4 ELISA Kit
Customs Name
Human BMP-4 ELISA Kit
Product Spec
96T
SalePrice
3200
Type
ELISA Kit
Application
ELISA
Reactivity
Human
Modality
NoData
Assay Type
Sandwich ELISA
Suitable Sample Type
serum, plasma, cell culture supernates
Format
96-well strip plate
Storage
4℃ (unopened) standard stored at -20℃, others stored at 4℃ (opened)
Shipping Condition
4℃
Sensitivity
0.30 pg/ml
Standard Curve Range
3.91 - 250 pg/ml
Spike Recovery Range
76%-103%
Mean Spike Recovery
92%
CV of Intra plate
1.3 % - 3.5 %
CV of Inter plate
4.9 % - 8.7 %
Components

96-well polystyrene microplate (12 strips of 8 wells) coated with an antibody against human BMP-4

Human BMP-4 Standard, lyophilized

BMP-4 Detect Antibody

Standard Diluent

Streptavidin-HRP                                                                                           

Assay Buffer (10×)

Substrate

Stop Solution

Washing Buffer (20×)

Adhesive Films

PRINCIPLE OF THE ASSAY
Human BMP-4 ELISA Kit is based on the quantitative sandwich enzyme-linked immunosorbent assay technique to measure concentration of human BMP-4 in the samples. An antibody specific for human BMP-4 has been pre-coated onto a microplate. Standards and samples are pipetted into the wells and BMP-4 present is bound by the immobilized antibody. After washing away any unbound substances, a biotin-linked detect antibody specific for BMP-4 is added to the wells. Following a wash to remove any unbound antibody-biotin reagent, streptavidin-HRP is added. After washing, substrate solution is added to the wells and color develops in proportion to the amount of BMP-4 bound in the initial step. The color development is stopped and the intensity of the color is measured.
Describtion

BMPs are secreted signaling molecules that comprise a subfamily of the TGF-beta superfamily and were originally identified as regulators of cartilage and bone formation. In general, BMPs are implicated in embryogenesis and morphogenesis of various tissues and organs. BMP-4, also known as Bone morphogenetic protein 4, forms disulfide-linked homodimer. It plays an important role in the onset of endochondral bone formation, dorsal/ventral patterning and has also been implicated in the commitment of embryonic mesodermal cells to a hematopoietic fate in a number of systems. It also enhances the formation of adrenergic sympathetic neurons in cultures of neural crest cells.