---
Product Details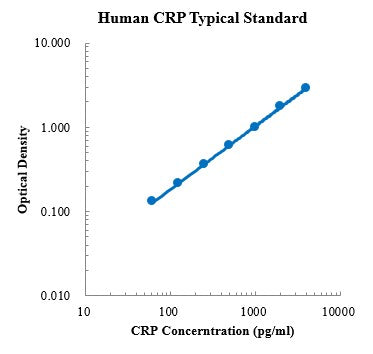 Brand
MultiSciences
CatNum
70-EK194
Product Name
Human C-Reactive Protein ELISA Kit
Customs Name
Human C-Reactive Protein ELISA Kit
Application
ELISA
Reactivity
Human
Assay Type
Sandwich ELISA
Suitable Sample Type
serum, plasma, cell culture supernates
Format
96-well strip plate
Storage
4℃ (unopened) standard stored at -20℃, others stored at 4℃ (opened)
Shipping Condition
4℃
Sample Volume
50 μl (prediluted)
Sensitivity
0.44 pg/ml
Standard Curve Range
62.50 - 4000 pg/ml
Spike Recovery Range
93 % - 107 %
Mean Spike Recovery
1
CV of Intra plate
3.0 % - 5.8 %
CV of Inter plate
2.9 % - 5.5 %
Components
96-well polystyrene microplate coated with a monoclonal antibody against C-Reactive Protein
Human C-Reactive Protein Standard, lyophilized
C-Reactive Protein Detect Antibody
Streptavidin-HRP
Assay Buffer (10×)
Substrate (TMB)
Stop Solution
washing Buffer (20×)
Plate Covers
Describtion
This assay employs the quantitative sandwich enzyme immunoassay technique for the quantitative detection of human CRP. The Human CRP ELISA is for research use only. Not for diagnostic or therapeutic procedures.
C-reactive protein (CRP) is an annular, pentameric protein. The physiological role of CRP is to bind to lysophosphatidylcholine expressed on the surface of dead or dying cells (and some types of bacteria) in order to activate the complement system via the C1Q complex. CRP is an acute phase protein in humans and is an important mediator of immune host defense. The acute phase response occurs in response to a wide range of acute and chronic inflammatory conditions such as bacterial, viral, or fungal infections; rheumatic and other inflammatory diseases; malignancy; and tissue injury and necrosis. These conditions cause release of IL-6 and other cytokines that trigger the synthesis of CRP and fibrinogen by the liver. CRP plays a role in innate immunity as an early defense system against infections. Monitoring of CRP levels in serum provides more detailed insights in several pathological situations such as inflammatory disease (including inflammatory bowel disease, Intestinal Lymphoma, Intestinal Tuberculosis and Behcet's Syndrome), cancer, diabetes, hypertension, cardiovascular disease, obstructive sleep apnea and so on.