---
Product Details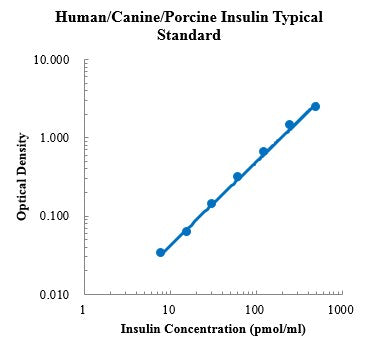 Brand
MultiSciences
CatNum
70-EK9220
Product Name
Human/Canine/Porcine Insulin ELISA Kit
Customs Name
Human/Canine/Porcine Insulin ELISA Kit
Application
ELISA
Reactivity
Human/Canine/Porcine
Assay Type
Sandwich ELISA
Suitable Sample Type
serum, plasma, cell culture supernates
Format
96-well strip plate
Storage
4℃ (unopened) standard stored at -20℃, others stored at 4℃ (opened)
Shipping Condition
4℃
Sample Volume
50 μl
Sensitivity
0.35 pmol/L
Standard Curve Range
7.81 - 500 pmol/L
Spike Recovery Range
80% - 130 %
Mean Spike Recovery
1
CV of Intra plate
4.3 % - 4.6 %
CV of Inter plate
3.8% - 4.5%
Components
96-well polystyrene microplate coated with a monoclonal antibody against Insulin
Human/Canine/Porcine Insulin Standard, lyophilized
Insulin Detect Antibody
Standard Diluent
Streptavidin-HRP
Assay Buffer (10×)
Substrate (TMB)
Stop Solution
washing Buffer (20×)
Plate Covers
Describtion
This assay employs the quantitative sandwich enzyme immunoassay technique for the quantitative detection of human, canine and porcine Insulin. The Human/Canine/Porcine Insulin ELISA is for research use only. Not for diagnostic or therapeutic procedures.
Insulin is a peptide hormone produced by β cells of the pancreatic islets, and by the Brockmann body in some teleost fish. It has important effects on the metabolism of carbohydrates, fats and protein by promoting the absorption of, especially, glucose from the blood into fat, liver and skeletal muscle cells. In these tissues the absorbed glucose is converted into either glycogen or fats (triglycerides), or, in the case of the liver, into both. Glucose production by the liver is strongly inhibited by high concentrations of insulin in the blood. In high concentrations in the blood it is therefore an anabolic hormone, promoting the conversion of small molecules in the blood into large molecules inside the cells. Low insulin levels in the blood have the opposite effect by promoting widespread catabolism.
When the pancreatic β cells are destroyed by an autoimmune process, insulin can no longer be synthesized or be secreted into the blood. This results in type 1 diabetes mellitus. Combined influence of genetic susceptibility and environmental factors result in insulin resistance in cells. This is characterized by type 2 diabetes. In addition, pancreatic β cells producing excess insulin or reactive hypoglycemia is associated with insulinoma.