---
Product Details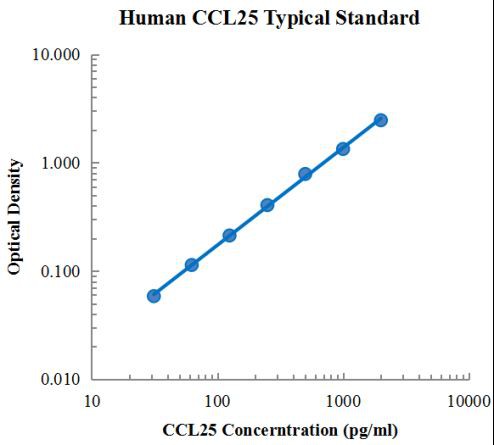 Factory Name
MultiSciences
Product Code
70-EK1291-96
CatNum
EK1291-96
Product Name
Human CCL25/TECK ELISA Kit
Customs Name
Human CCL25/TECK ELISA Kit
Product Spec
96T
SalePrice
3200
Type
ELISA Kit
Application
ELISA
Reactivity
Human
Modality
NoData
Assay Type
Sandwich ELISA
Suitable Sample Type
serum, plasma, cell culture supernates
Format
96-well strip plate
Storage
4℃ (unopened) standard stored at -20℃, others stored at 4℃ (opened)
Shipping Condition
4℃
Sensitivity
4.06 pg/ml
Standard Curve Range
31.3 - 2000 pg/ml
Spike Recovery Range
72 %-94 %
Mean Spike Recovery
86%
CV of Intra plate
1.0 % - 3.9 %
CV of Inter plate
1.1 % - 4.7 %
Components

96-well polystyrene microplate (12 strips of 8 wells) coated with an antibody against human CCL25

Human CCL25 Standard, lyophilized

CCL25 Detect Antibody

Standard Diluent

Streptavidin-HRP                                                                                           

Assay Buffer (10×)

Substrate

Stop Solution

Washing Buffer (20×)

Adhesive Films

PRINCIPLE OF THE ASSAY
Human CCL25/TECK ELISA Kit is based on the quantitative sandwich enzyme-linked immunosorbent assay technique to measure concentration of human CCL25 in the samples. An antibody specific for human CCL25 has been pre-coated onto a microplate. Standards and samples are pipetted into the wells and CCL25 present is bound by the immobilized antibody. After washing away any unbound substances, a biotin-linked detect antibody specific for CCL25 is added to the wells. Following a wash to remove any unbound antibody-biotin reagent, streptavidin-HRP is added. After washing, substrate solution is added to the wells and color develops in proportion to the amount of CCL25 bound in the initial step. The color development is stopped and the intensity of the color is measured.
Describtion

Chemokine C‐C motif ligand 25 (CCL25), also known as thymus‐expressed chemokine (TECK), is a chemoattractant that is produced by stromal cells in the thymus and epithelial cells of the small intestine. CCL25 induces the homing of several lymphocyte populations to the small intestine, including Integrin a4b7+ gamma/delta T cells, Integrin aEb7+ CD8+ T cells, and IgA-producing plasma cells. CCL25 operates following binding to the chemokine receptor CCR9.CCL25 attracts CCR9+ monocytes and macrophages in rheumatoid arthritis and CCR9+ macrophages in atherosclerosis.In addition, CCL25 seems to be a new promising candidate for the recruitment of MSC and thus to foster in situ regeneration.In cancer, CCL25 promotes the metastasis of melanoma cells to the small intestine, the migration and invasion of some breast carcinomas, and the attraction of mesenchymal stromal cells to multiple myelomas.