---
Product Details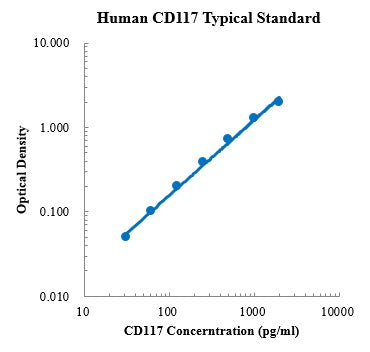 Brand

MultiSciences

Cat Num

70-EK1206

Product Name

Human CD117/c-Kit ELISA Kit

Customs Name

Human CD117/c-Kit ELISA Kit

Application

ELISA

Reactivity

Human

Assay Type

Sandwich ELISA

Suitable Sample Type

serum, plasma, cell culture supernates

Format

96-well strip plate

Storage

4℃ (unopened)standard stored at -20℃, others stored at 4℃ (opened)

Shipping Condition

4℃

Sample Volume

20 μl (prediluted)

Sensitivity

2.16 pg/ml

Standard Curve Range

31.25 - 2000 pg/ml

Spike Recovery Range

-

Mean Spike Recovery

-

CV of Intra plate

4.0 % - 4.2 %

CV of Inter plate

2.1 % - 4.9 %

Components

96-well polystyrene microplate coated with a monoclonal antibody against CD117
Human CD117 Standard, lyophilized
CD117 Detect Antibody
Streptavidin-HRP
Assay Buffer (10×)
Substrate (TMB)
Stop Solution
Washing Buffer (20×)
Plate Covers

Describtion

This assay employs the quantitative sandwich enzyme immunoassay technique for the quantitative detection of human CD117. The Human CD117/c-Kit ELISA is for research use only. Not for diagnostic or therapeutic procedures.

CD117, also known as c-Kit, is a cytokine receptor expressed on the surface of hematopoietic stem cells (HSC) as well as other cell types. CD117 is a receptor tyrosine kinase type III, which binds to stem cell factor. When this receptor binds to stem cell factor, it forms a dimer that activates its intrinsic tyrosine kinase activity, which in turn phosphorylates and activates signal transduction molecules that propagate the signal in the cell. Signaling through CD117 plays a role in cell survival, proliferation, and differentiation.

HSC, multipotent progenitors (MPP), and common myeloid progenitors (CMP) express high levels of CD117. Activating mutations in this gene are associated with gastrointestinal stromal tumors, testicular seminoma, mast cell disease, melanoma, acute myeloid leukemia, while inactivating mutations are associated with the genetic defect piebaldism.