---
Product Details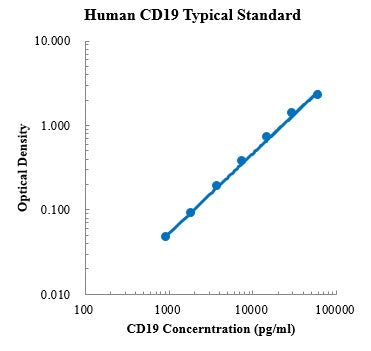 Brand
MultiSciences
CatNum
70-EK1233
Product Name
Human CD19 ELISA Kit
Customs Name
Human CD19 ELISA Kit
Application
ELISA
Reactivity
Human
Assay Type
Sandwich ELISA
Suitable Sample Type
serum, plasma, cell culture supernates
Format
96-well strip plate
Storage
4℃ (unopened) standard stored at -20℃, others stored at 4℃ (opened)
Shipping Condition
4℃
Sample Volume
50 μl
Sensitivity
18.93 pg/ml
Standard Curve Range
937.50 - 60000 pg/ml
Spike Recovery Range
80 % - 125 %
Mean Spike Recovery
0.98
CV of Intra plate
3.2 % - 7.8 %
CV of Inter plate
1.0 % - 5.4 %
Components
96-well polystyrene microplate coated with a monoclonal antibody against CD19
Human CD19 Standard, lyophilized
CD19 Detect Antibody
Standard Diluent
Assay Buffer (10×)
Substrate (TMB)
Stop Solution
Washing Buffer (20×)
Plate Covers
Describtion
This assay employs the quantitative sandwich enzyme immunoassay technique for the quantitative detection of human CD19. The Human CD19 ELISA is for research use only. Not for diagnostic or therapeutic procedures.
The cluster of differentiation (CD) system is commonly used as cell markers in immunophynotyping. Different kinds of cells in the immune system can be identified through the surface CD molecules which associating with the immune function of the cell. There are more than 320 CD unique clusters and subclusters have been identified. Some of the CD molecules serve as receptors or ligands important to the cell through initiating a signal cascade which then alter the behavior of the cell. Some CD proteins do not take part in cell signal process but have other functions such as cell adhesion.
Cluster of differentiation 19 (CD19) is a member of CD system. It is a cell surface molecule that assembles with the antigen receptor of B-cells. CD19 primarily acts as a B cell co-receptor in conjunction with CD21 and CD81. Upon activation, the cytoplasmic tail of CD19 becomes phosphorylated, which leads to binding by Src-family kinases and recruitment of PI-3 kinase. Mutations in CD19 are associated with severe immunodeficiency syndromes. It is now emerging that CD19 plays an active role in driving the growth of B-cell cancers, most intriguingly by stabilizing the concentrations of the MYC oncoprotein. CD19 has also been implicated in autoimmune diseases and may be a useful treatment target.