---
Product Details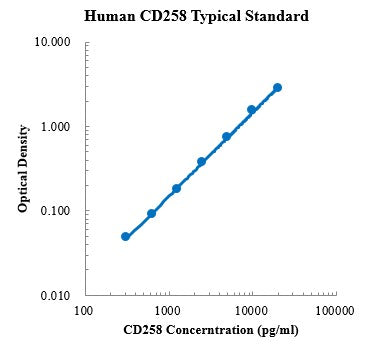 Brand
MultiSciences
CatNum
70-EK1217
Product Name
Human CD258/LIGHT/TNFSF14 ELISA Kit
Customs Name
Human CD258/LIGHT/TNFSF14 ELISA Kit
Application
ELISA
Reactivity
Human
Assay Type
Sandwich ELISA
Suitable Sample Type
serum, plasma, cell culture supernates
Format
96-well strip plate
Storage
4℃ (unopened) standard stored at -20℃, others stored at 4℃ (opened)
Shipping Condition
4℃
Sample Volume
20 μl
Sensitivity
22.26 pg/ml
Standard Curve Range
312.50 - 20000 pg/ml
Spike Recovery Range
80 % - 118 %
Mean Spike Recovery
0.91
CV of Intra plate
3.6 % - 4.8 %
CV of Inter plate
2.6 % - 4.5 %
Components
96-well polystyrene microplate coated with a monoclonal antibody against CD258
Human CD258 Standard, lyophilized
CD258 Detect Antibody
Standard Diluent
Streptavidin-HRP
Assay Buffer (10×)
Substrate (TMB)
Stop Solution
Washing Buffer (20×)
Plate Covers
Describtion
This assay employs the quantitative sandwich enzyme immunoassay technique for the quantitative detection of human CD258. The HumanCD258/LIGHT/TNFSF14 ELISA is for research use only. Not for diagnostic or therapeutic procedures.
CD258, also known as LIGHT and tumor necrosis factor superfamily member 14 (TNFSF14), is a secreted protein of the TNF superfamily. It is a type II transmembrane protein expressed on activated T cells and immature dendritic cells and recognized by herpesvirus entry mediator (HVEM), as well as decoy receptor 3. This protein may function as a costimulatory factor for the activation of lymphoid cells and as a deterrent to infection by herpesvirus. This protein has been shown to stimulate the proliferation of T cells, trigger apoptosis of various tumor cells and block viral entry. It is also reported to prevent TNF alpha mediated apoptosis in primary hepatocyte. In addition, CD258 has been implicated in T cell development and homeostasis, dendritic cell maturation, and atherogenesis and may play a prominent role in diseases involving T cells such as graft versus host disease (GVHD) and autoimmune conditions.