---
Product Details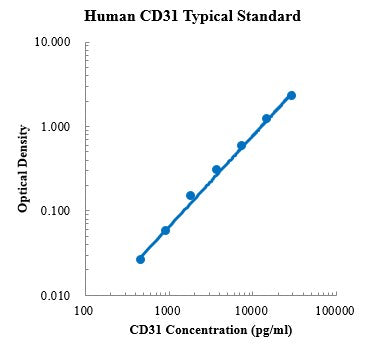 Factory Name

MultiSciences

CatNum

EK1106

Product Name

Human CD31/PECAM-1 ELISA Kit

Customs Name

Human CD31/PECAM-1 ELISA Kit

Product Spec

96T

Application

ELISA

Reactivity

Human

SDS

SDS - EK1106

Assay Type

Sandwich ELISA

Suitable Sample Type

serum, plasma, cell culture supernates

Format

96-well strip plate

Storage

4℃ (unopened)standard stored at -20℃, others stored at 4℃ (opened)

Shipping Condition

4℃

Sample Volume

20 μl

Sensitivity

106.00 pg/ml

Standard Curve Range

468.75 - 30000 pg/ml

Spike Recovery Range

72 % - 123%

Mean Spike Recovery

0.93

CV of Intra plate

3.3% - 5.0%

CV of Inter plate

3.2% - 3.6%

Components

96-well polystyrene microplate coated with a monoclonal antibody against CD31
Human CD31 Standard, lyophilized
CD31 Detect Antibody
Standard Diluent
Assay Buffer (10×)
Substrate (TMB)
Stop Solution
Washing Buffer (20×)
Plate Covers

Describtion

This assay employs the quantitative sandwich enzyme immunoassay technique for the quantitative detection of human CD31. The Human CD31/PECAM-1 ELISA is for research use only. Not for diagnostic or therapeutic procedures.
Cluster of differentiation 31 (CD31), also known as platelet endothelial cell adhesion molecule (PECAM-1), plays a key role in removing aged neutrophils from the body. It is found on the surface of platelets, monocytes, neutrophils, and some types of T cells. CD31 is also expressed in certain tumors, including epithelioid hemangioendothelioma, epithelioid sarcoma-like hemangioendothelioma, other vascular tumors, histiocytic malignancies, and plasmacytomas. The encoded protein is a member of the immunoglobulin superfamily and is likely involved in leukocyte transmigration, angiogenesis, and integrin activation. In immunohistochemistry, CD31 is used primarily to demonstrate the presence of endothelial cells in histological tissue sections. This can help to evaluate the degree of tumour angiogenesis. CD31 immunohistochemistry can also be used to demonstrate both angiomas and angiosarcomas. It can also be demonstrated in small lymphocytic and lymphoblastic lymphomas.