---
Product Details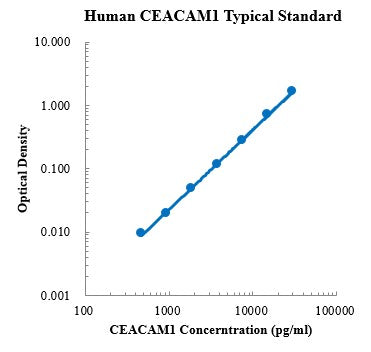 Brand
MultiSciences
CatNum
70-EK1243
Product Name
Human CEACAM1/CD66a ELISA Kit
Customs Name
Human CEACAM1/CD66a ELISA Kit
Application
ELISA
Reactivity
Human
Assay Type
Sandwich ELISA
Suitable Sample Type
serum, plasma, cell culture supernates
Format
96-well strip plate
Storage
4℃ (unopened) standard stored at -20℃, others stored at 4℃ (opened)
Shipping Condition
4℃
Sample Volume
20 μl
Sensitivity
106.49 pg/ml
Standard Curve Range
468.75 - 30000 pg/ml
Spike Recovery Range
81 % - 117 %
Mean Spike Recovery
0.97
CV of Intra plate
3.8 % - 4.8 %
CV of Inter plate
3.2 % - 4.3 %
Components
96-well polystyrene microplate coated with a monoclonal antibody against CEACAM1
Human CEACAM1 Standard, lyophilized
CEACAM1 Detect Antibody
Standard Diluent
Assay Buffer (10×)
Substrate (TMB)
Stop Solution
Washing Buffer (20×)
Plate Covers
Describtion
This assay employs the quantitative sandwich enzyme immunoassay technique for the quantitative detection of human CEACAM1. The Human CEACAM1/CD66a ELISA is for research use only. Not for diagnostic or therapeutic procedures.
Carcinoembryonic antigen-related cell adhesion molecule 1 (CEACAM1), also known as CD66a, is a member of the carcinoembryonic antigen (CEA) gene family which belongs to the immunoglobulin superfamily. The highly glycosylated CEACAM1 contains one N-terminal V-type Ig-like domain and three C2-type Ig-like domains, and one ITIM motif and a calmodulin binding site in the cytoplasmic region. CEACAM1 is a surface glycoprotein expressed on various blood cells, epithelial cells, and vascular cells. It was described as an adhesion molecule mediating cell adhesion via both homophilic and heterophilic manners, and was detected on leukocytes, epithelia, and endothelia. Studies have revealed that CEACAM1 performs actions in multiple cellular processes including tissue differentiation, angiogenesis, apoptosis, metastasis, as well as the modulation of innate and adaptive immune responses.