---
Product Details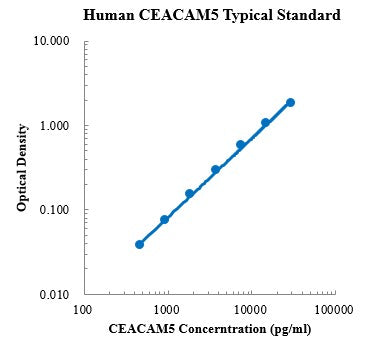 Brand
MultiSciences
CatNum
70-EK1229
Product Name
Human CEACAM5/CD66e ELISA Kit
Customs Name
Human CEACAM5/CD66e ELISA Kit
Application
ELISA
Reactivity
Human
Assay Type
Sandwich ELISA
Suitable Sample Type
serum, plasma, cell culture supernates
Format
96-well strip plate
Storage
4℃ (unopened) standard stored at -20℃, others stored at 4℃ (opened)
Shipping Condition
4℃
Sample Volume
10 μl (prediluted)
Sensitivity
24.03 pg/ml
Standard Curve Range
468.75 - 30000 pg/ml
Spike Recovery Range
93%-108%
Mean Spike Recovery
99%
CV of Intra plate
3.7 - 4.9 %
CV of Inter plate
2.4 - 3.3 %
Components
96-well polystyrene microplate coated with a monoclonal antibody against CEACAM5
Human CEACAM5 Standard, lyophilized
CEACAM5 Detect Antibody
Assay Buffer (10×)
Substrate (TMB)
Stop Solution
Washing Buffer (20×)
Plate Covers
Describtion
This assay employs the quantitative sandwich enzyme immunoassay technique for the quantitative detection of human CEACAM5. The Human CEACAM5/CD66e ELISA is for research use only. Not for diagnostic or therapeutic procedures.
Carcinoembryonic antigen-related cell adhesion molecule 5 (CEACAM5), also known as CD66e, belongs to the large family of CEACAM and pregnancy specific glycoproteins. It is expressed primarily by epithelial cells, consists of an N-terminal Ig like V-type domain followed by six Ig-like C2-type domains and a GPI anchor. CEACAM5 is restricted to the apical face of intestinal epithelial cells in the adult but is more diffuse during embryonic development and in tumors. CEACAM5 is upregulated in a wide variety of human tumors and is a commonly used cancer marker. It promotes tumor cell migration, invasion, adhesion, and metastasis. CEACAM5 also contributes to tumor formation by maintaining cellular proliferation in the presence of differentiation stimuli. In addition, CEACAM5 is identified as the host receptor for the Dr family of adhesins of E.Coli, and the binding of E.coli Dr adhesins leads to dissociation of the CEACAM5 homodimer.