---
Product Details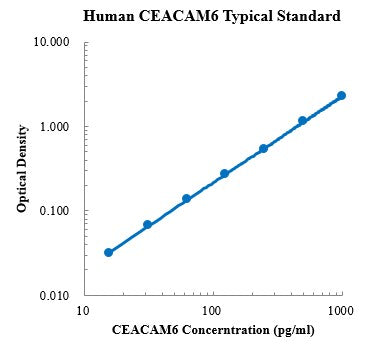 Brand
MultiSciences
CatNum
70-EK1224
Product Name
Human CEACAM6/CD66c ELISA Kit
Customs Name
Human CEACAM6/CD66c ELISA Kit
Application
ELISA
Reactivity
Human
Assay Type
Sandwich ELISA
Suitable Sample Type
serum, plasma, cell culture supernates
Format
96-well strip plate
Storage
4℃ (unopened) standard stored at -20℃, others stored at 4℃ (opened)
Shipping Condition
4℃
Sample Volume
100 μl (prediluted)
Sensitivity
1.41 pg/ml
Standard Curve Range
15.63 - 1000 pg/ml
Spike Recovery Range
90 % - 119 %
Mean Spike Recovery
1.09
CV of Intra plate
4.2 % - 4.8 %
CV of Inter plate
3.9 % - 4.9 %
Components
96-well polystyrene microplate coated with a monoclonal antibody against CEACAM6
Human CEACAM6 Standard, lyophilized
CEACAM6 Detect Antibody
Standard Diluent
Streptavidin-HRP
Assay Buffer (10×)
Substrate (TMB)
Stop Solution
Washing Buffer (20×)
Plate Covers
Describtion
This assay employs the quantitative sandwich enzyme immunoassay technique for the quantitative detection of human CEACAM6. The Human CEACAM6/CD66c ELISA is for research use only. Not for diagnostic or therapeutic procedures.
Carcinoembryonic antigen-related cell adhesion molecule 6 (CEACAM6), also known as CD66c, is one of seven human CEACAM family members. It's a glycosylphosphatidylinositol-linked immunoglobulin superfamily member that is overexpressed in a variety of human cancers, including colon, breast and lung and is associated with tumourigenesis, tumour cell adhesion, invasion and metastasis. CEACAM6 is expressed by granulocytes and their progenitors. It is also expressed by epithelia of various organs and is upregulated in pancreatic and colon adenocarcinomas, as well as hyperplastic polyps. Resistance to adhesion-related apoptosis in tumor cells is conferred in the condition of CEACAM6 overexpression. Overexpression of CEACAM6 promotes migration and invasion of oestrogen-deprived breast cancer cells and suggest that this protein could be an important biomarker of metastasis.