---
Product Details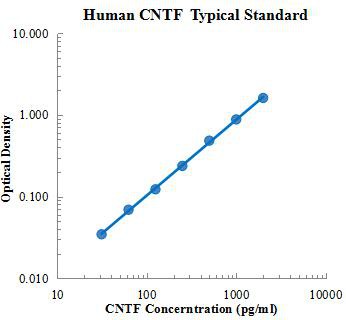 Factory Name
MultiSciences
Product Code
70-EK1257
CatNum
EK1257
Product Name
Human CNTF ELISA Kit
Type
ELISA Kit
Application
ELISA
Reactivity
Human
SDS
SDS - EK1257
Assay Type
Sandwich ELISA
Suitable Sample Type
serum, plasma, cell culture supernates
Format
96-well strip plate
Storage
4℃ (unopened)standard stored at -20℃, others stored at 4℃ (opened)
Shipping Condition
4℃
Sample Volume
50 μl
Sensitivity
4.13 pg/ml
Standard Curve Range
31.25- 2000 pg/ml
Spike Recovery Range
84% - 106%
Mean Spike Recovery
96%
CV of Intra plate
4.1% - 8.0%
CV of Inter plate
2.1% - 5.5%
Components
96-well polystyrene microplate coated with a monoclonal antibody against CNTF
Human CNTF Standard, lyophilized
CNTF Detect Antibody
Standard Diluent
Assay Buffer (10×)
Substrate (TMB)
Stop Solution
Washing Buffer (20×)
Plate Covers
Describtion
This assay employs the quantitative sandwich enzyme immunoassay technique for the quantitative detection of human CNTF.The Human CNTF ELISA is for research use only.Ciliary neurotrophic factor (CNTF) is a protein that in humans is encoded by the CNTF gene. Human CNTF is a 200 amino acid (aa) residue, single chain polypeptide of 22.7 kDa. The protein encoded by this gene is a polypeptide hormone whose actions appear to be restricted to the nervous system where it promotes neurotransmitter synthesis and neurite outgrowth in certain neuronal populations.
CNTF is a potent survival factor for neurons and oligodendrocytes and may be relevant in reducing tissue destruction during inflammatory attacks. CNTF has also been shown to be expressed by cells on the bone surface, and to reduce the activity of osteoblasts.