---
Product Details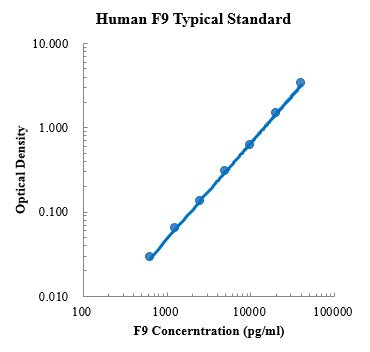 Brand
MultiSciences
CatNum
70-EK1186
Product Name
Human Coagulation Factor IX/FIX/F9 ELISA Kit
Customs Name
Human Coagulation Factor IX/FIX/F9 ELISA Kit
Application
ELISA
Reactivity
Human
Assay Type
Sandwich ELISA
Suitable Sample Type
serum, plasma, cell culture supernates
Format
96-well strip plate
Storage
4℃ (unopened) standard stored at -20℃, others stored at 4℃ (opened)
Shipping Condition
4℃
Sample Volume
50 μl
Sensitivity
53.50 pg/ml
Standard Curve Range
625.00 - 40000 pg/ml
Spike Recovery Range
78 % - 122 %
Mean Spike Recovery
1.05
CV of Intra plate
2.7 % - 4.3 %
CV of Inter plate
2.0 % - 6.8 %
Components
96-well polystyrene microplate coated with a monoclonal antibody against F9
Human F9 Standard, lyophilized
F9 Detect Antibody
Standard Diluent
Assay Buffer (10×)
Substrate (TMB)
Stop Solution
Washing Buffer (20×)
Plate Covers
Describtion
This assay employs the quantitative sandwich enzyme immunoassay technique for the quantitative detection of human F9. The Human Coagulation Factor IX/FIX/F9 ELISA is for research use only. Not for diagnostic or therapeutic procedures.
Coagulation factor IX, also known as FIX and F9, one of the serine proteases, belongs to peptidase family S1. F9 is produced as a zymogen, an inactive precursor. It is processed to remove the signal peptide, glycosylated and then cleaved by factor XIa or factor VIIa to produce a two-chain form where the chains are linked by a disulfide bridge. It is inhibited by antithrombin. In addition, F9 expression increases with age in humans and mice.
Deficiency of this protein causes hemophilia B. Over 100 mutations of F9 have been described; some cause no symptoms, but many lead to a significant bleeding disorder. Recombinant F9 is used to treat hemophilia B, and is commercially available as BeneFIX and Alprolix. Some rare mutations of F9 result in elevated clotting activity, and can result in clotting diseases, such as deep vein thrombosis. Tranexamic acid may be of value in patients undergoing surgery who have inherited F9 deficiency in order to reduce the perioperative risk of bleeding.