---
Product Details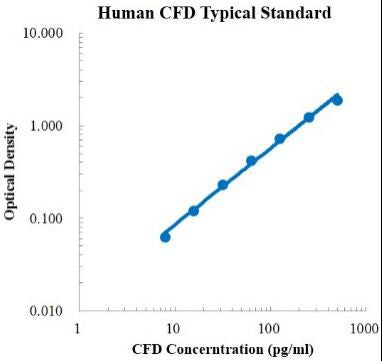 Factory Name
MultiSciences
Product Code
70-EK1290-96
CatNum
EK1290-96
Product Name
Human Complement Factor D/ Adipsin ELISA Kit
Customs Name
Human Complement Factor D/ Adipsin ELISA Kit
Product Spec
96T
SalePrice
2500
Type
ELISA Kit
Application
ELISA
Reactivity
Human
Modality
NoData
Assay Type
Sandwich ELISA
Suitable Sample Type
serum, plasma, cell culture supernates
Format
96-well strip plate
Storage
4℃ (unopened) standard stored at -20℃, others stored at 4℃ (opened)
Shipping Condition
4℃
Sensitivity
0.11 pg/ml
Standard Curve Range
7.81-500 pg/ml
Spike Recovery Range
91%-118%
Mean Spike Recovery
107%
CV of Intra plate
3.8 % - 4.6 %
CV of Inter plate
3.9% - 4.5%
Components

96-well polystyrene microplate (12 strips of 8 wells) coated with a monoclonal antibody against human CFD

Human CFD Standard, lyophilized

CFD Detect Antibody

Streptavidin-HRP

Assay Buffer (10×)

Substrate (TMB)

Stop Solution

Washing Buffer (20×)

Adhesive Films 

Describtion

This assay employs the quantitative sandwich enzyme immunoassay technique for the quantitative detection of human β-NGF. The Human  β-NGF ELISA is for research use only. Not for diagnostic or therapeutic procedures.                          CFD is the prohormone precursor to insulin made in the beta cells of the islets of Langerhans, specialized regions of the pancreas. In humans, proinsulin is encoded by the INS gene. It is post-translationally cleaved into two chains (peptide A and peptide B) that are covalently linked via two disulfide bonds and one molecule of C-peptide. There is conservation of much of the structure of proinsulin among mammalian species. CFD binds the Insulin Receptor A isoform (IR-A) with high affinity resulting in cell proliferation and migration. It has low binding affinity for the Insulin Receptor B isoform (IR-B) and the Insulin-like Growth Factor I Receptor (IGF R1). There are higher concentrations of proinsulin after meals and lower levels when a person is fasting. Additionally, while proinsulin and insulin have structural differences, proinsulin does demonstrate some affinity for the insulin receptor.