---
Product Details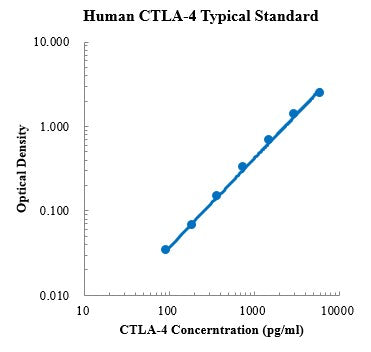 Brand
MultiSciences
CatNum
70-EK1241
Product Name
Human CTLA-4/CD152 ELISA Kit
Customs Name
Human CTLA-4/CD152 ELISA Kit
Application
ELISA
Reactivity
Human
Assay Type
Sandwich ELISA
Suitable Sample Type
serum, plasma, cell culture supernates
Format
96-well strip plate
Storage
4℃ (unopened) standard stored at -20℃, others stored at 4℃ (opened)
Shipping Condition
4℃
Sample Volume
50 μl
Sensitivity
0.71 pg/ml
Standard Curve Range
93.75 - 6000 pg/ml
Spike Recovery Range
78 % - 120 %
Mean Spike Recovery
0.94
CV of Intra plate
2.4 % - 3.7 %
CV of Inter plate
3.1 % - 4.3 %
Components
96-well polystyrene microplate coated with a monoclonal antibody against CTLA-4
Human CTLA-4 Standard, lyophilized
CTLA-4 Detect Antibody
Standard Diluent
Assay Buffer (10×)
Substrate (TMB)
Stop Solution
Washing Buffer (20×)
Plate Covers
Describtion
This assay employs the quantitative sandwich enzyme immunoassay technique for the quantitative detection of human CTLA-4. The Human CTLA-4/CD152 ELISA is for research use only. Not for diagnostic or therapeutic procedures.
Cytotoxic T-lymphocyte-associated protein 4 (CTLA-4), also known as CD152, is a member of the immunoglobulin superfamily that is expressed on the surface of helper T cells. CTLA-4 is similar to the T-cell co-stimulatory protein, CD28, and both molecules bind to CD80 and CD86. CTLA-4 transmits an inhibitory signal to T cells, whereas CD28 transmits a stimulatory signal. CTLA-4 functions as an immune checkpoint, downregulates the immune system, acts as an "off" switch when bound to CD80 or CD86 on the surface of antigen-presenting cells. Intracellular CTLA-4 is also found in regulatory T cells and may be important to their function.
Mutations in this gene have been associated with insulin-dependent diabetes mellitus, Graves' disease, Hashimoto's thyroiditis, celiac disease, systemic lupus erythematosus, thyroid-associated orbitopathy, primary biliary cirrhosis and other autoimmune diseases. Polymorphisms of the CTLA-4 gene are associated with autoimmune diseases such as autoimmune thyroid disease and multiple sclerosis, though this association is often weak. In systemic lupus erythematosus, the splice variant sCTLA-4 is found to be aberrantly produced and found in the serum of patients with active systemic lupus erythematosus.