---
Product Details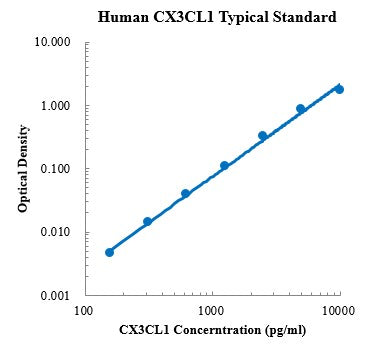 Brand
MultiSciences
CatNum
70-EK1209
Product Name
Human CX3CL1/Fractalkine ELISA Kit
Customs Name
Human CX3CL1/Fractalkine ELISA Kit
Application
ELISA
Reactivity
Human
Assay Type
Sandwich ELISA
Suitable Sample Type
serum, plasma, cell culture supernates
Format
96-well strip plate
Storage
4℃ (unopened) standard stored at -20℃, others stored at 4℃ (opened)
Shipping Condition
4℃
Sample Volume
20 μl
Sensitivity
34.45 pg/ml
Standard Curve Range
156.25 - 10000 pg/ml
Spike Recovery Range
80 % - 102 %
Mean Spike Recovery
0.88
CV of Intra plate
2.1 % - 3.6 %
CV of Inter plate
2.6 % - 4.4 %
Components
96-well polystyrene microplate coated with a monoclonal antibody against CX3CL1
Human CX3CL1 Standard, lyophilized
CX3CL1 Detect Antibody
Standard Diluent
Streptavidin-HRP
Assay Buffer (10×)
Substrate (TMB)
Stop Solution
Washing Buffer (20×)
Plate Covers
Describtion
This assay employs the quantitative sandwich enzyme immunoassay technique for the quantitative detection of human CX3CL1. The Human CX3CL1/Fractalkine ELISA is for research use only. Not for diagnostic or therapeutic procedures.
Chemokine (C-X3-C motif) ligand 1 (CX3CL1), also known as fractalkine, is a large cytokine protein of 373 amino acids, and is the only known member of the CX3C chemokine family. Soluble CX3CL1 has been identified in serum, urine, cerebrospinal, amniotic and synovial fluids. CX3CL1 is predominantly expressed by vascular endothelium and smooth muscle, neurons and dendritic cells. Most CX3CL1 expression is induced by inflammatory cytokines such as TNF-α and IFN-γ.
CX3CL1 elicits its adhesive and migratory functions by interacting with the chemokine receptor CX3CR1. Soluble CX3CL1 potently chemoattracts T cells and monocytes, while the cell-bound chemokine promotes strong adhesion of leukocytes to activated endothelial cells. CX3CL1 may be associated with antitumor activity and is important in resolving normal inflammatory processes such as wound healing. It may also contribute to the pathogenesis of some conditions.