---
Product Details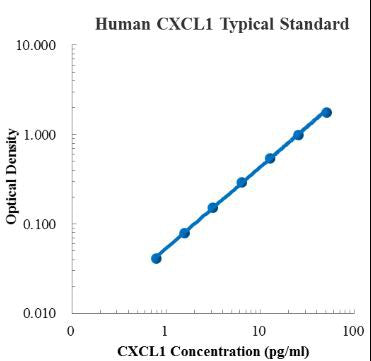 Factory Name
MultiSciences
Product Code
70-EK196-96
CatNum
EK196-96
Product Name
Human CXCL1/KC ELISA Kit
Customs Name
Human CXCL1/KC ELISA Kit
Product Spec
96T
SalePrice
3200
Type
ELISA Kit
Application
ELISA
Reactivity
Human
Modality
NoData
Assay Type
Sandwich ELISA
Suitable Sample Type
serum, plasma, cell culture supernates
Format
96-well strip plate
Storage
4℃ (unopened) standard stored at -20℃, others stored at 4℃ (opened)
Shipping Condition
4℃
Sensitivity
0.10 pg/ml
Standard Curve Range
0.78-50 pg/ml
Spike Recovery Range
73%-102%
Mean Spike Recovery
0.92
CV of Intra plate
2.8% - 11.0%
CV of Inter plate
4.7% - 8.4%
Components

96-well polystyrene microplate (12 strips of 8 wells) coated with a monoclonal antibody against human CXCL1

Human CXCL1 Standard, lyophilized

CXCL1 Detect Antibody

Standard Diluent

Streptavidin-HRP

Assay Buffer (10×)

Substrate (TMB)

Stop Solution

Washing Buffer (20×)

Adhesive Films

Describtion

The chemokine (C-X-C motif) ligand 1 (CXCL1) is a small cytokine belonging to the CXC chemokine family that was previously called GRO1 oncogene, GROα, KC and neutrophil-activating protein 3 (NAP-3). In humans, this protein is encoded by the CXCL1 gene.

CXCL1 is secreted by human melanoma cells, has mitogenic properties and is implicated in melanoma pathogenesis. CXCL1 is expressed by macrophages, neutrophils and epithelial cells, and has neutrophil chemoattractant activity. This chemokine elicits its effects by signaling through the chemokine receptor CXCR2. CXCL1 plays a role in spinal cord development by inhibiting the migration of oligodendrocyte precursors and is involved in the processes of angiogenesis, inflammation, wound healing, and tumorigenesis. An initial study in mice showed evidence that CXCL1 decreased the severity of multiple sclerosis and may offer a neuro-protective function.