---
Product Details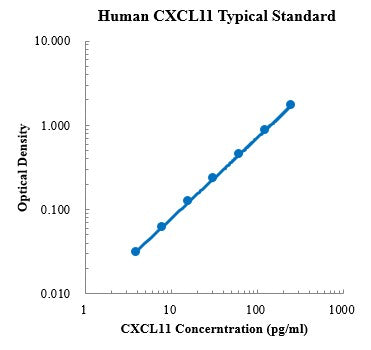 Brand
MultiSciences
CatNum
70-EK1207
Product Name
Human CXCL11/I-TAC ELISA Kit
Customs Name
Human CXCL11/I-TAC ELISA Kit
Application
ELISA
Reactivity
Human
Assay Type
Sandwich ELISA
Suitable Sample Type
serum, plasma, cell culture supernates
Format
96-well strip plate
Storage
4℃ (unopened) standard stored at -20℃, others stored at 4℃ (opened)
Shipping Condition
4℃
Sample Volume
10 μl
Sensitivity
0.78 pg/ml
Standard Curve Range
3.91 - 250 pg/ml
Spike Recovery Range
84 % - 110 %
Mean Spike Recovery
0.94
CV of Intra plate
2.5 % - 4.8 %
CV of Inter plate
4.4 % - 5.0 %
Components
96-well polystyrene microplate coated with a monoclonal antibody against CXCL11
Human CXCL11 Standard, lyophilized
CXCL11 Detect Antibody
Standard Diluent
Streptavidin-HRP
Assay Buffer (10×)
Substrate (TMB)
Stop Solution
Washing Buffer (20×)
Plate Covers
Describtion
This assay employs the quantitative sandwich enzyme immunoassay technique for the quantitative detection of human CXCL11. The Human CXCL11/I-TAC ELISA is for research use only. Not for diagnostic or therapeutic procedures.
C-X-C motif chemokine 11(CXCL11), also known as interferon-inducible T-cell alpha chemoattractant (I-TAC), is a small cytokine belonging to the CXC chemokine family. Its gene is located on human chromosome 4 along with many other members of the CXC chemokine family. It is highly expressed in peripheral blood leukocytes, pancreas and liver, with moderate levels in thymus, spleen and lung and low expression levels were in small intestine, placenta and prostate. Gene expression of CXCL11 is strongly induced by IFN-γ and IFN-β, and weakly induced by IFN-α.
CXCL11 elicits its effects on its target cells by interacting with the cell surface chemokine receptor CXCR3. CXCL11 is chemotactic for activated T cells. CXCL11 exhibits an angiostatic effect. It has been implicated in allergic contact dermatitis, atherosclerosis, mycosis fungoides (a type of T cell lymphoma), and immune-mediated disorders of the central nervous system such as multiple sclerosis.