---
Product Details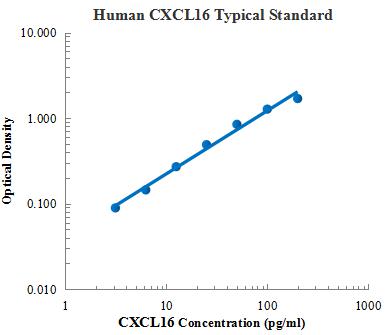 Suitable Sample Type
serum, plasma, cell culture supernates
Format
96-well strip plate
Storage
4℃ (unopened)standard stored at -20℃, others stored at 4℃ (opened)
Shipping Condition
4℃
Sample Volume
100 μl
Sensitivity
1.09 pg/ml
Standard Curve Range
3.13 - 200 pg/ml
Spike Recovery Range
81% - 105%
Mean Spike Recovery
0.98
CV of Intra plate
4.3% - 5.7%
CV of Inter plate
5.5% - 7.3%
Release Date
43110
Components
96-well polystyrene microplate coated with a monoclonal antibody against CXCL16
Human CXCL16 Standard, lyophilized
CXCL16 Detect Antibody
Standard Diluent
Assay Buffer (10×)
Substrate (TMB)
Stop Solution
Washing Buffer (20×)
Plate Covers
Describtion
This assay employs the quantitative sandwich enzyme immunoassay technique for the quantitative detection of human CXCL16. The Human CXCL16 ELISA is for research use only. Not for diagnostic or therapeutic procedures.
Chemokine (C-X-C motif) ligand 16 (CXCL16) is a small cytokine belonging to the CXC chemokine family. It is a type I membrane protein with 254 amino acids. The gene for human CXCL16 is located on chromosome 17.CXCL16 is produced by dendritic cells found in the T cell zones of lymphoid organs, and by cells found in the red pulp of the spleen.Expression of CXCL16 is induced by the inflammatory cytokines IFN-gamma and TNF-alpha. CXCL16 interacts with the chemokine receptor CXCR6, also known as Bonzo. The administration of folinic acid, which forces the methylation of CXCL 16, induces high levels of methylation of the CXCL 16 gene promoter in colon, ileum and lung and causes iNKT cells accumulation in these tissues.