---
Product Details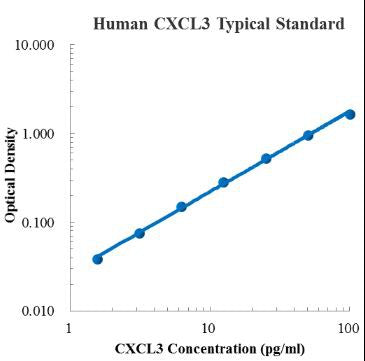 Factory Name
MultiSciences
Product Code
70-EK1265-96
CatNum
EK1265-96
Product Name
Human CXCL3/GRO-γ ELISA Kit
Customs Name
Human CXCL3/GRO-γ ELISA Kit
Product Spec
96T
SalePrice
3200
Type
ELISA Kit
Application
ELISA
Reactivity
Human
Modality
NoData
Assay Type
Sandwich ELISA
Suitable Sample Type
serum, plasma, cell culture supernates
Format
96-well strip plate
Storage
4℃ (unopened) standard stored at -20℃, others stored at 4℃ (opened)
Shipping Condition
4℃
Sensitivity
0.24 pg/ml
Standard Curve Range
1.56-100 pg/ml
Spike Recovery Range
86%-105%
Mean Spike Recovery
0.95
CV of Intra plate
2.3% - 11.5%
CV of Inter plate
2.6% - 5.5%
Components

96-well polystyrene microplate (12 strips of 8 wells) coated with a monoclonal antibody against human CXCL3

Human CXCL3 Standard, lyophilized

CXCL3 Detect Antibody

Standard Diluent

Streptavidin-HRP

Assay Buffer (10×)

Substrate (TMB)

Stop Solution

Washing Buffer (20×)

Adhesive Films 

Describtion

CXCL1, CXCL2, and CXCL3, also known respectively as GRO alpha, GRO beta (MIP-2 alpha) and GRO gamma (MIP-2 beta), are members of the CXC subfamily of chemokines. Mature CXCL1/2/3 proteins bind with high affinity to the IL-8 receptor type B and are potent neutrophil attractants and activators. Chemokines act primarily on leukocytes, regulating their trafficking. In general, chemokine α family members preferentially chemoattract and activate neutrophils. Recombinant Human GRO-γ is a 7.9 kDa protein consisting of 73 amino acids including the 'ELR' motif common to the CXC chemokine family that bind to CXCR1 or CXCR2. Mature human CXCL3 (aa 35-107) shares 70% and 74% amino acid (aa) sequence identity with mouse and rat CXCL3, respectively. CXCL3 plays a key role in monocyte migration and adhesion through its interaction with the CXCR2 receptor.