---
Product Details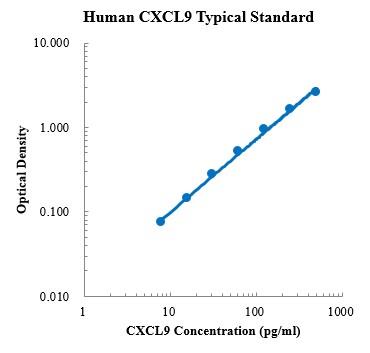 CatNum
70-EK1143
Product Name
Human CXCL9/MIG ELISA Kit
Specification 
96 T
Application
ELISA
Reactivity
Human
Assay Type
Sandwich ELISA
Suitable Sample Type
serum, plasma, cell culture supernates
Format
96-well strip plate
Storage
4℃ (unopened)standard stored at -20℃, others stored at 4℃ (opened)
Shipping Condition
4℃
Sample Volume
20 μl
Sensitivity
0.06pg/ml
Standard Curve Range
7.81 - 500 pg/ml
Spike Recovery Range
80 % - 120%
Mean Spike Recovery
1.04
CV of Intra plate
2.6 % - 3.4%
CV of Inter plate
2.4 % - 3.0%
Components

96-well polystyrene microplate coated with a monoclonal antibody against CXCL9

Human CXCL9 Standard, lyophilized

CXCL9 Detect Antibody

Standard Diluent

Streptavidin-HRP

Assay Buffer (10×)

Substrate (TMB)

Stop Solution

Washing Buffer (20×)

Plate Covers

Describtion

This assay employs the quantitative sandwich enzyme immunoassay technique for the quantitative detection of human CXCL9. The Human CXCL9/MIG ELISA is for research use only. Not for diagnostic or therapeutic procedures.

Chemokine (C-X-C motif) ligand 9 (CXCL9) also known as Monokine induced by gamma interferon (MIG) is a small cytokine belonging to the CXC chemokine family. It is closely related to two other CXC chemokines called CXCL10 and CXCL11, they all elicit chemotactic functions by interacting with the chemokine receptor CXCR3. 

CXCL9 is involved in Th1-type inflammation. It has a number of functions, the principal being chemoattraction. Cells known to respond to CXCL9 include activated B cells, monocytes, CD8+ memory T cells, and CD4+ Th1 T cells. CXCL9 also promotes Th1 responses by serving as an antagonist to IL-4/Th2 responses. This occurs by blocking Th2-related chemokine (eotaxin), thus limiting Th2 infiltration. CXCL9 also demonstrates direct anti-microbial activity, apparently through its extended C-terminus. During hematopoiesis, CXCL9 is involved in the mobilization and migration of CD34+ stem cells, and the suppression of colony formation of both erythroid and myeloid lineage cell types.