---
Product Details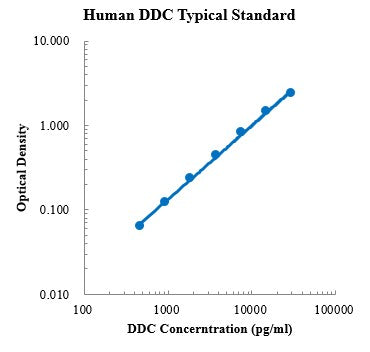 Brand
MultiSciences
CatNum
70-EK1238
Product Name
Human DOPA Decarboxylase/DDC ELISA Kit
Customs Name
Human DOPA Decarboxylase/DDC ELISA Kit
Application
ELISA
Reactivity
Human
Assay Type
Sandwich ELISA
Suitable Sample Type
serum, plasma, cell culture supernates
Format
96-well strip plate
Storage
4℃ (unopened) standard stored at -20℃, others stored at 4℃ (opened)
Shipping Condition
4℃
Sample Volume
50 μl
Sensitivity
1.02 pg/ml
Standard Curve Range
468.75 - 30000 pg/ml
Spike Recovery Range
81 % - 103 %
Mean Spike Recovery
0.92
CV of Intra plate
2.0 % - 3.0 %
CV of Inter plate
2.3 % - 3.3 %
Components
96-well polystyrene microplate coated with a monoclonal antibody against DDC
Human DDC Standard, lyophilized
DDC Detect Antibody
Standard Diluent
Assay Buffer (10×)
Substrate (TMB)
Stop Solution
Washing Buffer (20×)
Plate Covers
Describtion
This assay employs the quantitative sandwich enzyme immunoassay technique for the quantitative detection of human DDC. The Human DOPA Decarboxylase/DDC ELISA is for research use only. Not for diagnostic or therapeutic procedures.
DOPA decarboxylase (DDC), also known as aromatic-L-amino acid decarboxylase, is a 54 kDa lyase enzyme. It is a vitamin B6-dependent homodimeric enzyme that catalyzes the decarboxylation of both L-3, 4 -dihydroxyphenylalanine (L-DOPA) and L-5-hydroxytryptophan (5-HTP) to dopamine and serotonin, respectively. In normal dopamine and serotonin neurotransmitter synthesis, DDC is not the rate-limiting step in either reaction. However, DDC becomes the rate-limiting step of dopamine synthesis in patients treated with L-DOPA (such as in Parkinson's Disease), and the rate-limiting step of serotonin synthesis in people treated with 5-HTP (such as in mild depression or dysthymia). DDC is inhibited by Carbidopa outside of the blood brain barrier to inhibit the premature conversion of L-DOPA to dopamine in the treatment of Parkinson's. In humans, DDC is also the rate-limiting enzyme in the formation of trace amine neurotransmitters. Deficiency of DDC is associated with various symptoms as severe developmental delay, oculogyric crises and autonomic dysfunction.