---
Product Details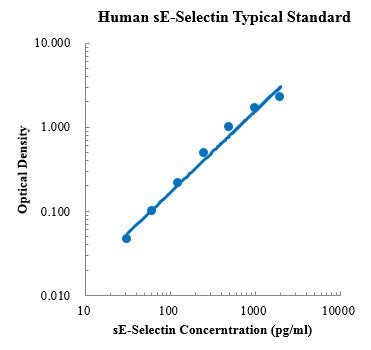 Brand
MultiSciences
CatNum
70-EK184
Product Name
Human E-Selectin ELISA Kit
Customs Name
Human E-Selectin ELISA Kit
Application
ELISA
Reactivity
Human
Assay Type
Sandwich ELISA
Suitable Sample Type
serum, plasma, cell culture supernates
Format
96-well strip plate
Storage
4℃ (unopened) standard stored at -20℃, others stored at 4℃ (opened)
Shipping Condition
4℃
Sample Volume
10 μl
Sensitivity
1.94 pg/ml
Standard Curve Range
31.25 - 2000 pg/ml
Spike Recovery Range
84 % - 120 %
Mean Spike Recovery
1.02
CV of Intra plate
4.4 % - 7.7 %
CV of Inter plate
4.9 % - 5.4 %
Components
96-well polystyrene microplate coated with a monoclonal antibody against sE-Selectin
Human sE-Selectin Standard, lyophilized
sE-Selectin Detect Antibody
Streptavidin-HRP
Assay Buffer (10×)
Substrate (TMB)
Stop Solution
washing Buffer (20×)
Plate Covers
Describtion
This assay employs the quantitative sandwich enzyme immunoassay technique for the quantitative detection of sE-Selectin. The sE-Selectin ELISA is for research use only. Not for diagnostic or therapeutic procedures.
E-selectin, also known as CD62 antigen-like family member E (CD62E), endothelial-leukocyte adhesion molecule 1 (ELAM-1), or leukocyte-endothelial cell adhesion molecule 2 (LECAM2), is a 115 kDa glycoprotein expressed only after activation by inflammatory cytokines (IL-1β or TNF-α) or endotoxins on endothelial cells. Cell-surface E-Selectin plays a key role in localized inflammatory response by mediating the rolling attachment of leukocytes to the endothelium, which is an essential step in extravasation of leukocytes at the site of inflammation. The extracellular part of E-Selectin includes a calcium-dependent C2-type lectin domain, an epidermal growth factor (EGF) domain, and six repeats of a complement-regulatoryprotein- like sequence. Soluble E-Selectin (sE-Selectin) is found in the blood of healthy individuals, probably arising from proteolytic cleavage of the surface-expressed molecule.
Monitoring of sE-Selectin levels in serum provides more detailed insights in several pathological situations such as cancer, infectious diseases, diabetes and sepsis.