---
Product Details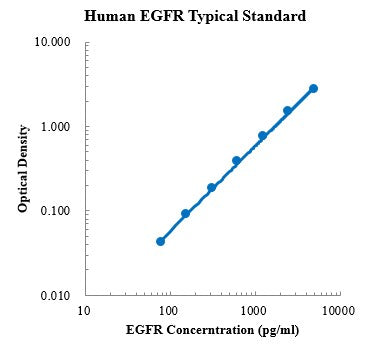 Brand
MultiSciences
CatNum
70-EK1192
Product Name
Human EGFR/HER1/ErbB1 ELISA Kit
Customs Name
Human EGFR/HER1/ErbB1 ELISA Kit
Application
ELISA
Reactivity
Human
Assay Type
Sandwich ELISA
Suitable Sample Type
serum, plasma, cell culture supernates
Format
96-well strip plate
Storage
4℃ (unopened) standard stored at -20℃, others stored at 4℃ (opened)
Shipping Condition
4℃
Sample Volume
100 μl (prediluted)
Sensitivity
5.79 pg/ml
Standard Curve Range
78.13 - 5000 pg/ml
Spike Recovery Range
87 % - 119 %
Mean Spike Recovery
1.06
CV of Intra plate
2.2 % - 3.5 %
CV of Inter plate
2.3 % - 4.4 %
Components
96-well polystyrene microplate coated with a monoclonal antibody against EGFR
Human EGFR Standard, lyophilized
EGFR Detect Antibody
Standard Diluent
Assay Buffer (10×)
Substrate (TMB)
Stop Solution
Washing Buffer (20×)
Plate Covers
Describtion
This assay employs the quantitative sandwich enzyme immunoassay technique for the quantitative detection of human EGFR. The Human EGFR/HER1/ErbB1 ELISA is for research use only. Not for diagnostic or therapeutic procedures.
The epidermal growth factor receptor (EGFR), also known as ErbB1 and HER1, a type I transmembrane glycoprotein. It exists on the cell surface and is activated by binding of its specific ligands, including EGF and TGF-α. EGFR signaling plays a crucial role in the regulation of cell proliferation, survival and differentiation. Binding of a ligand induces EGFR homo- or hetero- dimerization, initiates subsequent tyrosine autophosphorylation and various downstream pathways (MAPK, PI3K/PKB and STAT).
Activation of the receptor is important for the innate immune response in human skin. Mutations that lead to EGFR overexpression (known as upregulation) or overactivity have been associated with a number of cancers, including lung cancer, anal cancers and glioblastoma multiforme. Aberrant EGFR signaling has been implicated in psoriasis, eczema and atherosclerosis. Currently, EGFR was proposed as a target for cancer therapy.