---
Product Details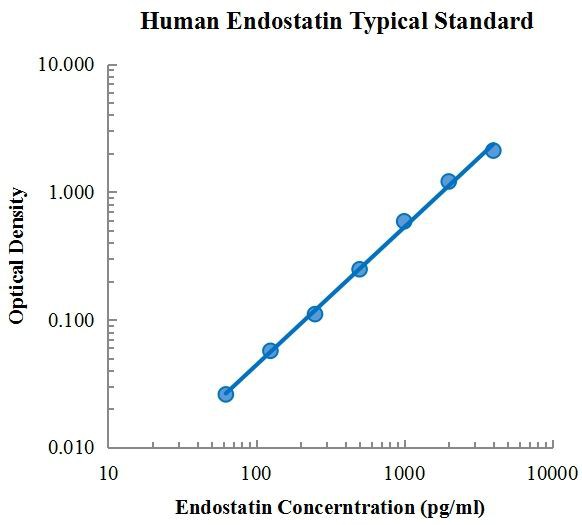 Factory Name
MultiSciences
Product Code
70-EK1345-96
CatNum
EK1345-96
Product Name
Human Endostatin ELISA Kit
Customs Name
Human Endostatin ELISA Kit
Product Spec
96T
SalePrice
3200
Type
ELISA Kit
Application
ELISA
Reactivity
Human
Modality
NoData
Assay Type
Sandwich ELISA
Suitable Sample Type
serum, plasma, cell culture supernates
Format
96-well strip plate
Storage
4℃ (unopened) standard stored at -20℃, others stored at 4℃ (opened)
Shipping Condition
4℃
Sensitivity
6.67 pg/ml
Standard Curve Range
62.50-4000 pg/ml
Spike Recovery Range
81%-110%
Mean Spike Recovery
92%
CV of Intra plate
1.5 % - 2.0 %
CV of Inter plate
1.9% - 2.5%
Components

96-well polystyrene microplate (12 strips of 8 wells) coated with an antibody against human Endostatin

Human Endostatin Standard, lyophilized

Endostatin Detect Antibody

Streptavidin-HRP                                                                                           

Assay Buffer (10×)

Substrate

Stop Solution

Washing Buffer (20×)

Adhesive Films

PRINCIPLE OF THE ASSAY
Human Endostatin ELISA Kit is based on the quantitative sandwich enzyme-linked immunosorbent assay technique to measure concentration of human Endostatin in the samples. An antibody specific for human Endostatin has been immobilized onto microwells. Standard or samples are pipetted into the wells, followed by the addition of biotin-linked detect antibody specific for Endostatin, and Endostatin present is bound by the immobilized antibody and detect antibody following the first incubation. After removal of any unbound substances, streptavidin-HRP is added for a second incubation. After washing, substrate solution reacts with HRP and color develops in proportion to the amount of Endostatin bound by the immobilized antibody. The color development is stopped by addition of acid and the optical density value is measured by microplate reader.
Describtion

Endostatin is a 20 kDa proteolytic fragment of the C-terminal, non-collagenous (NC1) domain of type XVIII Collagen, which is an endogenous angiogenesis inhibitor. It was originally identified as a factor produced by murine hemangioendothelioma cells that could specifically inhibit endothelial cell proliferation and angiogenesis. It inhibits tumor growth and impairs blood vessel maturation in wound healing. Endostatin has an important role in endothelial cell adhesion and cytoskeletal organization.  It may also be involved in down-regulating angiogenesis during physiological processes such as wound healing and the establishment of placental circulation. The anti-angiogenic activity of Endostatin is attributable to its ability to inhibit endothelial cell proliferation and suppress VEGF-and FGF basic-induced endothelial cell migration and adhesion. Many of these effects are thought to be mediated by interactions between Endostatin and endothelial cell-expressed Transglutaminase 2, Heparin, and Integrins alpha 5 beta 1 and alpha V beta 3.