---
Product Details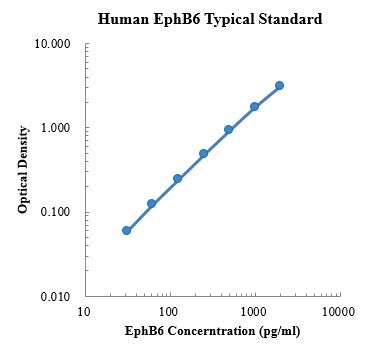 Brand
MultiSciences
CatNum
70-EK1185
Product Name
Human EphB6/Eph Receptor B6 ELISA Kit
Customs Name
Human EphB6/Eph Receptor B6 ELISA Kit
Application
ELISA
Reactivity
Human
Assay Type
Sandwich ELISA
Suitable Sample Type
serum, plasma, cell culture supernates
Format
96-well strip plate
Storage
4℃ (unopened)standard stored at -20℃, others stored at 4℃ (opened)
Shipping Condition
4℃
Sample Volume
10 μl
Sensitivity
2.08 pg/ml
Standard Curve Range
31.25 - 2000 pg/ml
Spike Recovery Range
93 % - 103 %
Mean Spike Recovery
0.97
CV of Intra plate
2.2 % - 2.7 %
CV of Inter plate
1.9 % - 3.3 %
Components
96-well polystyrene microplate coated with a monoclonal antibody against EphB6
Human EphB6 Standard, lyophilized
EphB6 Detect Antibody
Assay Buffer (10×)
Substrate (TMB)
Stop Solution
Washing Buffer (20×)
Plate Covers
Describtion
This assay employs the quantitative sandwich enzyme immunoassay technique for the quantitative detection of human EphB6. The Human EphB6/Eph Receptor B6 ELISA is for research use only. Not for diagnostic or therapeutic procedures.
Ephrins are divided into the ephrin-A (EFNA) class and the ephrin-B (EFNB) class based on their structures and sequence relationships. Ephrin receptors make up the largest subgroup of the receptor tyrosine kinase (RTK) family. Ephrin type-B receptor 6 (EphB6) is an unusual Eph receptor, lacking catalytic capacity due to alterations in its kinase domain. EphB6 can both positively and negatively regulate cell adhesion and migration. In addition, Ephrin-B2 may be a physiological ligand for the EphB6 receptor. Increased metastatic activity is associated with reduced EphB6 receptor expression in several tumor types, including breast cancer. This emphasizes the potential of EphB6 to act as a suppressor of cancer aggressiveness. EphB6 suppress cancer invasiveness through c-Cbl-dependent signaling, morphologic changes, and cell attachment and indicate that EphB6 may represent a useful prognostic marker and a promising target for therapeutic approaches.