---
Product Details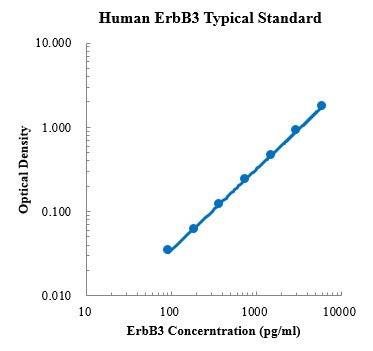 Brand

MultiSciences

Cat Num

70-EK1187

Product Name

Human ErbB3/HER3 ELISA Kit

Customs Name

Human ErbB3/HER3 ELISA Kit

Application

ELISA

Reactivity

Human

Assay Type

Sandwich ELISA

Suitable Sample Type

serum, plasma, cell culture supernates

Format

96-well strip plate

Storage

4℃ (unopened)standard stored at -20℃, others stored at 4℃ (opened)

Shipping Condition

4℃

Sample Volume

10 μl

Sensitivity

2.11 pg/ml

Standard Curve Range

93.75 - 6000 pg/ml

Spike Recovery Range

82 % - 116 %

Mean Spike Recovery

0.97

CV of Intra plate

3.2 % - 4.6 %

CV of Inter plate

2.0 % - 4.9 %

Components

96-well polystyrene microplate coated with a monoclonal antibody against ErbB3
Human ErbB3 Standard, lyophilized
ErbB3 Detect Antibody
Standard Diluent
Assay Buffer (10×)
Substrate (TMB)
Stop Solution
Washing Buffer (20×)
Plate Covers

Describtion

This assay employs the quantitative sandwich enzyme immunoassay technique for the quantitative detection of human ErbB3. The Human ErbB3/HER3 ELISA is for research use only. Not for diagnostic or therapeutic procedures.
Receptor tyrosine-protein kinase ErbB3, also known as HER3 (human epidermal growth factor receptor 3), is a membrane bound protein that in humans is encoded by the ERBB3 gene. ErbB3 is a member of the epidermal growth factor receptor (EGFR/ERBB) family. ErbB3, like the other members of the EGFR family, consists of an extracellular ligand binding domain, a transmembrane domain, and an intracellular domain. ErbB3 has been shown to bind the ligands heregulin and NRG-2, but it can't mediate the intracellular signal transduction through protein phosphorylation. However, its heterodimer with ErbB2 or other EGFR members responsible for tyrosine phosphorylation forms a receptor complex with high affinity, and initiates the related pathway which lead to cell proliferation or differentiation. ErbB3 has been shown to implicate in numerous cancers, including prostate, bladder, and breast tumors.