---
Product Details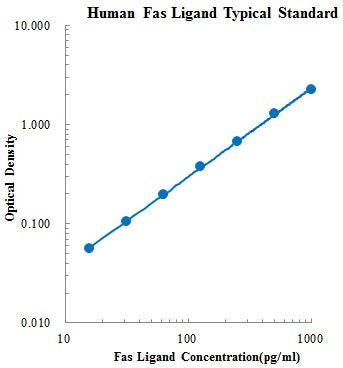 CatNum
70-EK1F02
Product Name
Human Fas Ligand/TNFSF6 ELISA Kit
Customs Name
Human Fas Ligand/TNFSF6 ELISA Kit
Application
ELISA
Reactivity
Human
Assay Type
Sandwich ELISA
Suitable Sample Type
serum, plasma, cell culture supernates
Format
96-well strip plate
Storage
4℃ (unopened)standard stored at -20℃, others stored at 4℃ (opened)
Shipping Condition
4℃
Sample Volume
50 μl
Sensitivity
3.42 pg/ml
Standard Curve Range
15.63 - 1000 pg/ml
Spike Recovery Range
87 % - 108 %
Mean Spike Recovery
0.97
CV of Intra plate
3.0 % - 4.2 %
CV of Inter plate
3.9 % - 6.2 %
Components
96-well polystyrene microplate coated with a monoclonal antibody against Fas Ligand
Human Fas Ligand Standard, lyophilized
Fas Ligand Detect Antibody
Standard Diluent
Streptavidin-HRP
Assay Buffer (10×)
Substrate (TMB)
Stop Solution
Washing Buffer (20×)
Plate Covers
Describtion
This assay employs the quantitative sandwich enzyme immunoassay technique for the quantitative detection of human Fas Ligand. The Human Fas Ligand ELISA is for research use only. Not for diagnostic or therapeutic procedures.
Fas ligand (also known as TNFSF6, CD178, FasL or CD95L) is a type-II transmembrane protein that belongs to the tumor necrosis factor (TNF) family. Its binding with its receptor induces apoptosis. Fas ligand/receptor interactions play an important role in the regulation of the immune system and the progression of cancer. Fas ligand is a homotrimeric type II transmembrane protein expressed on cytotoxic T lymphocytes. It signals through trimerization of FasR, which spans the membrane of the "target" cell. This trimerization usually leads to apoptosis, or cell death. Soluble Fas ligand is generated by cleaving membrane-bound FasL at a conserved cleavage site by the external matrix metalloproteinase MMP-7. Apoptosis triggered by Fas-Fas ligand binding plays a fundamental role in the regulation of the immune system. Its functions include:T-cell homeostasis, cytotoxic T-cell activity, immune privilege, maternal tolerance, tumor counterattack.
Defective Fas-mediated apoptosis may lead to oncogenesis as well as drug resistance in existing tumors. Germline mutation of Fas is associated with autoimmune lymphoproliferative syndrome (ALPS), a childhood disorder of apoptosis.