---
Product Details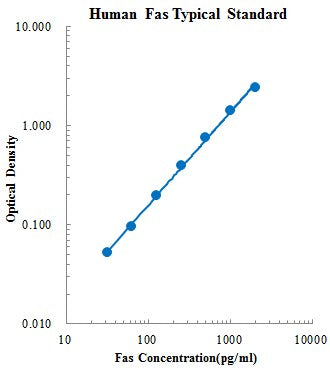 Brand
MultiSciences
CatNum
70-EK1F01
Product Name
Human Fas/TNFRSF6/CD95 ELISA Kit
Customs Name
Human Fas/TNFRSF6/CD95 ELISA Kit
Application
ELISA
Reactivity
Human
Assay Type
Sandwich ELISA
Suitable Sample Type
serum, plasma, cell culture supernates
Format
96-well strip plate
Storage
4℃ (unopened) standard stored at -20℃, others stored at 4℃ (opened)
Shipping Condition
4℃
Sample Volume
50 μl (prediluted)
Sensitivity
3.15 pg/ml
Standard Curve Range
31.25 - 2000 pg/ml
Spike Recovery Range
95 % - 106 %
Mean Spike Recovery
1.02
CV of Intra plate
2.8 % - 4.0 %
CV of Inter plate
3.2 % - 5.0 %
Components
96-well polystyrene microplate coated with a monoclonal antibody against Fas
Human Fas Standard, lyophilized
Fas Detect Antibody
Streptavidin-HRP
Assay Buffer (10×)
Substrate (TMB)
Stop Solution
Washing Buffer (20×)
Plate Covers
Describtion
This assay employs the quantitative sandwich enzyme immunoassay technique for the quantitative detection of human Fas. The Human Fas/TNFRSF6 ELISA is for research use only. Not for diagnostic or therapeutic procedures.
Fas, also known as APO-1, or CD95, is a cell-surface receptor that transduces apoptotic signals
from Fas ligand (FasL) .Fas forms the death-inducing signaling complex (DISC) upon ligand binding. Membrane-anchored Fas ligand trimer on the surface of an adjacent cell causes oligomerization of Fas. Recent studies which suggested the trimerization of Fas could not be validated. Other models suggested the oligomerization up to 5-7 Fas molecules in the DISC.Although Fas has been shown to promote tumor growth in the above mouse models, analysis of the human cancer genomics database revealed that FAS is not significantly focally amplified across a dataset of 3131 tumors (FAS is not an oncogene), but is significantly focally deleted across the entire dataset of these 3131 tumors, suggesting that FAS functions as a tumor suppressor in humans.In cultured cells, FasL induces various types of cancer cell apoptosis through the Fas receptor. In AOM-DSS-induced colon carcinoma and MCA-induced sarcoma mouse models, it has been shown that Fas acts as a tumor suppressor.Furthermore, the Fas receptor also mediates tumor-specific cytotoxic T lymphocyte (CTL) anti-tumor cytotoxicity.
Serum Fas has been reported to be elevated in cancer patients, possibly originating in the tumor cell itself , and in autoimmune diseases.